Rep. Schuette: Michigan must stand against terrorism; with Israel
Representative Bill G. Schuette today stood with other Republican House members in front of the state Capitol demanding a bipartisan resolution that condemns the horrific acts of terrorism committed by Hamas and reaffirms Michigan's support for Israel be approved by the Democrat majority and House Speaker Joe Tate.
"Frankly, it is awful that we even have to make this request," said Schuette, of Midland. "It should not be controversial or complicated to condemn the targeted murder of infants, elderly and others across Israel. The killing of civilians and taking of hostages is unacceptable and despicable. There is no room for moral equivocation here.
"In the face of such horrible and evil violence, it is past time for all of our state government to lead, not wobble. Sadly, the Democratic leadership in the Michigan House is refusing to make a clear stand on this and firmly condemn terrorist acts. That is wrong and a moral failure."
House Resolution 146 condemns recent attacks committed against Israel by the terrorist group Hamas, calls for the release of hostages taken by the group and reaffirms support for Israel to exist and defend itself. The resolution has more than 50 cosponsors including multiple Democrats.
The resolution was buried in the House Government Operations Committee upon introduction instead of being taken up on the House floor. The move comes despite other adopted resolutions reaffirming support for U.S. allies this legislative term, including one supporting Ukraine amidst Russia's invasion of the country and another encouraging deeper ties with Taiwan as it faces near-constant acts of provocation from nearby China.
At least 1,400 people in Israel have been killed after Hamas militants launched indiscriminate rocket attacks into civilian areas, sent infiltrators into Israeli towns and systematically slaughtered civilians on Oct. 7. Even after two weeks, the number is climbing because officials in the country are still finding bodies in homes and communities.
This death count also includes over two dozen U.S. citizens so far as well as citizens from multiple other countries, and over 200 people were taken hostage by Hamas back into Gaza.
"I worked as an Intelligence Officer with the Defense Intelligence Agency in the Middle East working on counter-terror issues. I am familiar with the political dynamics and lengthy history in the region," Schuette said. "We are not trying to legislate a peace plan with this resolution. It is specifically condemning clear and overt acts of brutality and terror. If this Legislature cannot even do that, we truly have no moral leg to stand on as a body at all.
"The Legislature has approved more than 120 resolutions this year alone, including some that deal with international affairs. Not taking a stand against these barbaric acts is callous and insulting to many families across our state with loved ones and friends in Israel who have been impacted and traumatized by these tragic events."
PHOTO INFORMATION: State Representative Bill G. Schuette calls for the Michigan House to take up House Resolution 146 in a press conference held in front of the state Capitol building on Wednesday, Oct. 18. Schuette's HR 146 condemns recent attacks committed against Israel by the terrorist group Hamas, calls for the release of hostages taken by the group and reaffirms support for Israel.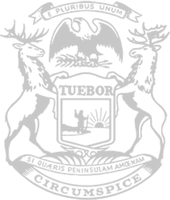 © 2009 - 2023 Michigan House Republicans. All Rights Reserved.
This site is protected by reCAPTCHA and the Google Privacy Policy and Terms of Service apply.