Rep. Meerman urges governor to redirect unemployment funds to back to work initiatives
State Rep. Luke Meerman, of Coopersville, today issued a letter urging Gov. Gretchen Whitmer to pause additional federal unemployment benefits and redirect those funds in back to work initiatives.
Meerman said the extra $300 in federal unemployment benefits, authorized by the CARES Act and offered in addition to Michigan's maximum state benefit amount of $362 per week, is standing in the way of the state's progress in the wake of the pandemic.
"I, along with my colleagues, are hearing from a growing chorus of small-business owners, agricultural leaders, managers in retail, hospitality, manufacturing and nearly every industry sector across our state about the lack of applicants and available workers," Meerman's letter states. "When Michigan residents can make the equivalent $34,000 per year in unemployment payments, they can make more money not working than they might working. It's exasperating our problems and standing in the way of more fully reopening Michigan and getting our economy back on track."
The legislator believes job providers are doing their part by raising wages, offering signing and retention bonuses, offering cash to interview and competitive benefits including job flexibility, work-from-home options, longer vacations and shorter shifts.
"No matter what job providers offer, it's not enough to compete with being paid to stay home," Meerman said. "It is leading to businesses closing and losing business to out of state companies simply because they do not have the manpower to complete projects in a timely fashion."
More than half of the states in the U.S. have done away with additional dollars being provided to individuals on unemployment, including Michigan's neighboring states of Indiana and Ohio.
Meerman's letter also urges the governor to reinstate mandatory work search and registration requirements as the number of vaccinated Michiganders continues to grow. The legislator believes doing so will get more people back to the workforce.
Several other House legislators joined Meerman in signing the letter, including Reps. Andrew Beeler of Port Huron, Steve Johnson of Wayland, Bob Bezotte of Howell, Daire Rendon of Grayling, Sue Allor of Wolverine, Brad Paquette of Niles, Ann Bollin of Brighton, Gary Howell of North Branch, David Martin of Davison, Andrew Fink of Adams Township, and John Reilly of Oakland Township.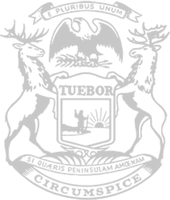 © 2009 - 2023 Michigan House Republicans. All Rights Reserved.
This site is protected by reCAPTCHA and the Google Privacy Policy and Terms of Service apply.