Rep. Meerman: Radical Democrat policy will make energy more costly, less reliable
Rep. Meerman: Radical Democrat policy will make energy more costly, less reliable
Rep. Meerman voted against a partisan plan this week that would radically alter Michigan's energy policy. He voiced strong concerns that the new mandates will burden Michigan families with electricity that is more expensive and less reliable.
Meerman said the Democrats' plan calls for utilities to have 100% clean energy by 2040, with several other mandates that will also increase costs. The mandates are similar to those issued in California that resulted in rate hikes and frequent blackouts.
"Any Michigander knows that our winters are long and that cloud cover can last for months on end here," Meerman said. "In 2022, West Michigan saw a monthly average of 42% daily sunlight. We cannot invest headlong in technology that cannot meet the energy demands of Michigan families. This is a misguided proposal that will burden Michiganders."
A forthcoming study projects that monthly electric bills could go up by more than $100 on average under the legislation, and California, which adopted similar mandates in 2018, has seen rate increases dramatically outpace national increases. California has also started to backtrack on its energy mandates after blackouts and brownouts.
Other measures approved by House Democrats today would  expand the state bureaucracy to allow for government mandate  the construction of large-scale solar and wind energy projects. Under House Bill 5120-5123, Meerman said the Michigan Public Service Commission could force the projects on local communities and community members would have no ability to hold the unelected commission members accountable.
"This proposal is not only unrealistic, its clearly missing the mark on what is important to Michigan families. This plan is expected to increase average rates by more than $100 a month over the next three decades and we know that with the rate of inflation, this estimated cost will only increase."
Each of the bills were ultimately approved by the House along party lines. House Bills 5120-5123 now advance to the Senate for further consideration. Senate Bills 271, 273 and 502, the clean energy mandates, will soon be presented to the governor for her expected signature.
###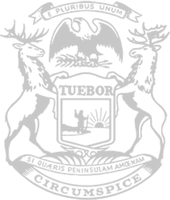 © 2009 - 2023 Michigan House Republicans. All Rights Reserved.
This site is protected by reCAPTCHA and the Google Privacy Policy and Terms of Service apply.