Rep. Markkanen urges DNR to use UP wolves to re-establish population in the Lower Peninsula
RELEASE
|
February 15, 2023
Rep. Markkanen advanced a resolution today that seeks to use a portion of the Upper Peninsula's abundant wolf population to re-establish a self-sustaining population in the Lower Peninsula. The resolution is tie-barred to Markkanen's House Bill 4102, introduced today.
"Public support for wolves has historically been high among Michigan's Lower Peninsula residents," said Markkanen, R-Hancock. "I've heard it from Lower Peninsula residents themselves – they often express envy in the UP's privilege to live side-by-side with wolves. I urge the DNR to re-establish a viable and self-sustaining wolf population in the Lower Peninsula by re-locating as many wolves as possible from the UP's thriving population."
Gray wolves in Michigan have been protected under the federal Endangered Species Act since 1974, leading to their remarkable comeback over the years, which led to their delisting from the federal Endangered Species list several times, most recently in January 2021.
A viable and self-sustaining wolf population, currently estimated at approximately 700 animals, has been re-established in the Upper Peninsula since 2007 – far surpassing the original goal of around 200 set by the U.S. Fish and Wildlife Service and the Michigan Department of Natural Resources (DNR) Michigan Wolf Recovery and Management Plan. However, no such sustainable wolf population has been re-established in the Lower Peninsula.
House Concurrent Resolution 2 states the following: "Re-establishment of gray wolves in the Lower Peninsula could be achieved by translocating wolves from the recovered and established U.P. wolf population. Translocation has been used for decades as an effective method to re-establish rare and endangered species around the world."
Markkanen said the Lower Peninsula contains thousands of acres of suitable wolf habitat, characterized by large areas of contiguous forest and stable populations of wolves' preferred prey, such as deer, rodents, and other small animals. Wolves play a key role in improving the ecological systems in which they reside. Wolves target weak, sick, or otherwise vulnerable prey, which can lead to healthier populations of prey. Additionally, introducing wolves into the Lower Peninsula's predator base could possibly result in reducing the spread of fatal diseases that continue to spread across Lower Peninsula deer populations, such as chronic wasting disease and bovine tuberculosis.
HCR 2 now advances to the House Committee on Natural Resources, Environment, Tourism and Outdoor Recreation, along with HB 4102, which would implement the policy outlined in the resolution. Rep. Markkanen encourages Chair Rep. Pohutsky, D-Livonia, to take up both the resolution and bill in a timely manner.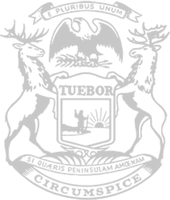 © 2009 - 2023 Michigan House Republicans. All Rights Reserved.
This site is protected by reCAPTCHA and the Google Privacy Policy and Terms of Service apply.