Rep. Thompson: Incorporated House Republican tax relief plan allows working families to save
State Rep. Jamie Thompson, of Brownstown, today highlighted advancing legislation that will bring relief immediately for people who are struggling to make ends meet in the face of surging costs.
An amended House Bill 4002 raises the Michigan Earned Income Tax Credit from 6% to 30% of the federal credit and will make it retroactive for the 2022 tax year. Both components were championed by Thompson and other House Republicans, as they offered help sooner than initial Democrat plans that featured relief in tax years down the line. Instead, the House Republican plan making life more affordable for those filing taxes this year was incorporated.
"All of us in this chamber have spoken with people who are struggling to make ends meet right now," Thompson said when addressing the reforms on the House floor. "I've heard from blue collar workers, single parents and people who see state government sitting on billions of dollars while they pinch pennies. Bills for them are getting higher and their confidence is getting lower.
"They have called on us to deliver solutions. This plan will help people living paycheck to paycheck and those feeling the sting of inflation. It will bring immediate relief people desperately need right now – not a year or more from now like what had initially been laid out."
Thompson underscored the collaborative legislative process that allowed for a better product for the people – and one that will kick in immediately to help people keep more of what they earn.
"This is how state government should work – and frankly it's how people outside of this building expect their state government to work," Thompson said.
HB 4002 advances to the Senate for further consideration.
PHOTO INFORMATION: State Rep. Jamie Thompson, of Brownstown, speaks on House Bill 4002 before the Michigan House on Thursday, Jan. 26. HB 4002 dramatically increases the Earned Income Tax Credit to help working families. Thompson and other House Republicans have prioritized the plan to bring immediate and needed relief since the start of the 2023-24 legislative term.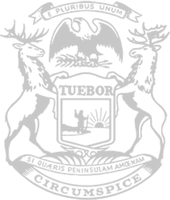 © 2009 - 2023 Michigan House Republicans. All Rights Reserved.
This site is protected by reCAPTCHA and the Google Privacy Policy and Terms of Service apply.