Rep. Schuette: House Democrat Leadership Wrong to Fail to Stand with Israel
Representative Bill G. Schuette today criticized the decision of the Democrat Michigan House of Representatives leadership to not bring his resolution condemning Hamas and reaffirming support for Israel before the House for a vote.
"I am disappointed in the decision of those in leadership to remain silent on this very important issue," said Schuette, of Midland. "There can be no equivocation here. Broad and watered-down statements do not suffice. An atrocity occurred in Israel last weekend. Hamas, a terrorist organization targeted civilians, children and U.S. citizens. Hundreds are dead, hostages remain in captivity. To not speak on this issue is an abdication of our moral responsibility."
Schuette's resolution, which had more than 50 co-sponsors including six Democrats, was referred to the Committee on Government Operations – instead of being brought before the full House of Representatives for a vote of support.
"Our body needs to speak clearly that this violence is abhorrent, barbaric – and that we stand with our nation's strongest ally in the Middle East: the State of Israel," Schuette said. "Hamas' brutal acts of terror perpetrated against Israeli civilians, U.S. citizens and foreign nationals were abhorrent, intolerable and should be condemned in the strongest of terms. I am utterly heartbroken to see innocent lives lost and so many people suffering.
"At the same time, we should reaffirm Michigan's strong stand alongside our ally Israel, its right to defend itself and its very right to exist. Michigan and Israel share deep cultural bonds and a lengthy history of partnership. To our friends in Israel and those families suffering: Please know that we in Michigan stand with you, by you and for you.
"As a former intelligence officer who worked alongside our counter-terrorism forces while deployed by the Defense Intelligence Agency in the Middle East, I know from firsthand experience that Israel is the United States' strongest ally in the region and a steadfast partner in the global fight against terrorism. Our commitment to our ally and friend is more important now than ever and we should be unwavering in support."
Hamas militants launched indiscriminate rocket attacks into civilian areas, sent infiltrators into Israeli towns and systematically executed civilians – including children and elderly – on the heels of the 50-year anniversary of the 1973 Yom Kippur War. The weekend also marked Simchat Torah in Israel, a Jewish religious observance where the yearly cycle of Torah reading is completed and the next cycle begins.
Roughly 1,200 people in Israel have been killed in the attacks. This number includes at least 22 U.S. citizens so far. Almost 300 people were massacred at a music festival in the southern part of the country where Hamas members entered by land, sea and air from the nearby Gaza Strip. Hamas has also taken an unknown number of people hostage back across the border, including possibly U.S. citizens.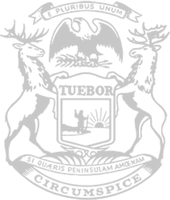 © 2009 - 2023 Michigan House Republicans. All Rights Reserved.
This site is protected by reCAPTCHA and the Google Privacy Policy and Terms of Service apply.