Rep. Schuette: Democrat 50-cent "plan" does not add up to real relief for Michiganders
Families and small businesses pay for short-sighted Democrat plan
State Representative Bill G. Schuette today expressed disappointment that Lansing Democrats performed extreme political gymnastics in order to eliminate a pending pay-raise for hard-working Michiganders.
"Instead of sustained, year-over-year tax relief, Democrats opted for a one-time giveaway that will amount to less than 50 cents per day for Michiganders and even less if you file taxes jointly with your spouse," said Schuette, of Midland. "This advancing plan cuts into people's paychecks by working around an income tax reduction that was previously promised through law. Michigan families and small businesses will have to pick up the tab for Democrat spending gimmicks – and that's immensely disappointing."
Schuette pointed to a recent budget proposal from Gov. Gretchen Whitmer that features the highest spending budget in state history, and underscored the prosperous nature of the state's budget while hard-working Michigan families and seniors struggle with theirs.
"The government clearly has enough money, while people across Midland and Gladwin counties are being forced into difficult financial decisions every single day," Schuette said. "Fifty cents per day is not going to buy a new tire after it hits a pothole on our "darn" roads that aren't fixed yet, or help cover a family's $400 grocery bill. We should prioritize lasting tax relief over the big government, reckless spending spree that Democrats are going on by ramming through this legislation."
Schuette also criticized the plan for not going far enough to help seniors in the face of rising costs. Previously introduced House Republican plans increased deductions on all income for seniors 67 and older – while developing new exemptions for retirement income for seniors ages 62 to 66 – but those proposals were not incorporated into the advancing legislation.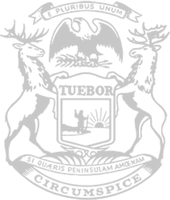 © 2009 - 2023 Michigan House Republicans. All Rights Reserved.
This site is protected by reCAPTCHA and the Google Privacy Policy and Terms of Service apply.