State Rep. David Martin testifies in support of his plan during a House Natural Resources and Outdoor Recreation Committee hearing on March 24.
Rep. Martin pushes back against radical, accelerated green energy plan for Michigan
State Rep. David Martin today expressed deep concerns about an extreme proposal that would force Michigan electric companies to use entirely carbon-free power sources by 2035, prematurely closing natural gas plants and driving the cost of electricity through the roof.
The aggressive plan is being pushed by the Democrat majority in the Legislature and recently gained the support of the Whitmer Administration.
"Our economy runs on fossil fuels," said Martin, of Davison. "Banning all fossil fuels and expecting renewable energy sources to fully support our economy, including our large manufacturers, by some arbitrary date is a recipe for disaster."
House Bills 4759-4761 would mandate Michigan derive 100% of its energy generation from renewable sources by 2035, banning natural gas, propane, biomass, landfill gas, and other low- to no-carbon sources. This timeline would force Michigan energy companies to end all use of fossil fuels sooner than nearly every other state in the nation.
"Technology continues to advance, allowing for the cleaner use of natural gas, safer nuclear energy production, and increased opportunities to tap into biomass for energy production – yet these bills ignore all that in favor of a radical agenda pushed by the extreme environmental lobby," Martin said. "The push to make natural gas and propane fuels irrelevant in Michigan lines right up with the Whitmer Administration's desire to shut down Line 5, regardless of the harm it does to families in northern Michigan who rely on propane to heat their homes or the thousands of people downstate who make a living at the crude oil refineries supplied by Line 5."
Martin said the Democrats' carbon-free energy plan is just one of several concerning proposals they're pushing that fly in the face of economic growth and make Michigan a less desirable place to live, work, and retire. He vowed to continue fighting for policies that promote lower taxes, higher-paying careers, better roads and bridges, quality education, and safer communities.
###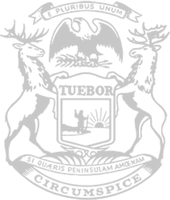 © 2009 - 2023 Michigan House Republicans. All Rights Reserved.
This site is protected by reCAPTCHA and the Google Privacy Policy and Terms of Service apply.