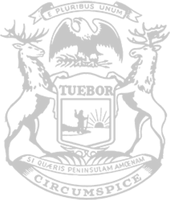 State Rep. Dave Martin, of Davison, stands with Chief Brian Flewelling of the Davison-Richfield Area Fire Department at the state Capitol on Sept. 9. Martin hosted Flewelling at the annual ceremony of the Michigan House of Representatives commemorating the Sept. 11, 2001, terrorist attacks.
Rep. Martin honors late paramedic, hosts Davison-Richfield fire chief at Capitol 9/11 ceremony
RELEASE
|
September 13, 2021
Event honors 20th anniversary of Sept. 11 attacks
At a 9/11 ceremony at the state Capitol, state Rep. Dave Martin today paid tribute to Ronald "Mike" Bierlien of Clio, a paramedic who passed away from COVID-19, and welcomed Chief Brian Flewelling of the Davison-Richfield Area Fire Department as his guest to the event.
"Paramedics like Mike Bierlein are exposed to health risks on a daily basis, but, as we saw on 9/11, risks do not deter these heroes from their lifesaving work," said Martin, of Davison. "Mike will be sorely missed — and greatly revered — by the people of Clio, as well as the Iosco community where he served."
The Michigan House of Representatives holds an annual ceremony to commemorate the Sept. 11, 2001, terrorist attacks and honor Michigan first responders and members of the military who died in the line of duty during the preceding year.
Bierlein served at the Iosco County EMS for 29 years, first as an EMT-B, and then, beginning in 1995, as a paramedic. He passed away due to COVID-19 on Nov. 30, 2020. Bierlein's sister, Michelle McMorris, and her husband, John, joined Martin at the ceremony.
Each representative is also permitted to invite one member of the military or first responder to attend the House 9/11 memorial.
"It's an honor to have my hometown fire chief here in Lansing to remember the heroic first responders of 9/11," Martin said. "Under Chief Flewelling's leadership, the fire department courageously protects the people in our community and places where they live and work."
Flewelling, a longtime Davison-Richfield firefighter, has served as chief since 2019.
Martin is a veteran of the U.S. Air Force.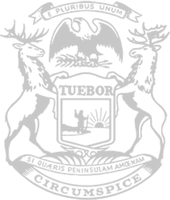 © 2009 - 2022 Michigan House Republicans. All Rights Reserved.
This site is protected by reCAPTCHA and the Google Privacy Policy and Terms of Service apply.