Rep. Jim DeSana speaks on the House floor about House Bills 4006 and 4032, urging his colleagues to vote against repealing the 1931 law offering Michigan's final protection remaining against late-term abortions.
Rep. James DeSana objects to bloated state budget that raises taxes while underfunding roads, police
Rep. James DeSana spoke out today against the Michigan state budget as it was signed into law by Gov. Gretchen Whitmer.
The budget is the largest in the state's history with total expenditures rising above $81 billion.
DeSana criticized the budget for spending more money than ever before, draining the rest of Michigan's $9 billion surplus, adding 1,000 new bureaucrats, and bankrolling billions of dollars in pork projects and waste, all while failing to invest Michigan's resources to fix crumbling local roads and fill officer vacancies at struggling local police departments.
"It's no secret that our state population is shrinking," DeSana said. "People want out. But when you look at the waste in this bloated budget, it's hard to argue with them. If you were living in a leaky apartment and your landlord refused to fix it while increasing your rent every month, would you stay? Or would you find a new place to live? A high-tax state where local roads aren't repaired, police aren't properly funded and schools aren't fully secure is not a state I blame anyone for leaving. This isn't what the people of Michigan signed up for."
DeSana's concerns include:
The budget requires an income tax hike on Michigan families and small businesses to pay for itself.

DeSana helped secure an income tax cut for every Michigander and small business this spring, but the Democrats will need the new 4.05% income tax rate to go up again to 4.25% next year in order to balance their budget.

The budget does not distribute a single extra dollar for local road repairs.

Democrats only hand-picked a select few favored projects, primarily in major cities — leaving roads in communities throughout Michigan in disrepair.

The budget fails to invest in understaffed local police departments experiencing a widespread officer shortage.

Democrats rejected Republican amendments to provide $100 million in grants to help local police departments and county sheriff's offices recruit and retain officers and obtain equipment. Instead, they spent more than $100 million on "community enhancement grants" to help their friends fund pork projects like pools, splash pads, theaters, and a cricket field.

The school budget eliminates dedicated funding to place armed school resource officers at Michigan public schools.

School resource officers help protect schools and build relationships with students in the process, fostering a welcoming, safe learning environment for kids.
"The budget has been signed but the fight does not stop," DeSana said. "I will keep working hard to save people money, fund our police and bring high-paying jobs back to Michigan."
Rep. DeSana and his office can be reached at (517) 373-0475 or [email protected].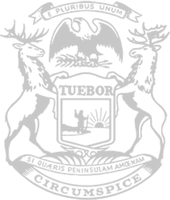 © 2009 - 2023 Michigan House Republicans. All Rights Reserved.
This site is protected by reCAPTCHA and the Google Privacy Policy and Terms of Service apply.