Rep. DeSana denounces Whitmer for planned 'victory lap' after devastating storms highlight Michigan's failing infrastructure
Rep. James DeSana said the intense storms that knocked out power to hundreds of thousands of Michigan families last week are a stark reminder of the need to improve the reliability of the state's electrical grid.
"This was a terrible storm, and we all owe a massive debt of gratitude to the men and women who are working around the clock to get everyone's power restored," DeSana said. "But it is also a reminder we must not miss. In a few days, our governor plans to give a speech citing her many 'accomplishments' and setting her policy agenda for the fall. Let's hope she's honest about the real problems she needs to solve. It is not the time for a victory lap."
DeSana's remarks come just days before Gov. Gretchen Whitmer is expected to outline her plan for Michigan's immediate future – a plan many expect to include the expansion of controversial policies that grow the power, size and cost of Michigan's state government.
One of the priorities already outlined by Lansing Democrats is an extreme proposal that would force Michigan electric companies to use entirely carbon-free power sources by 2035, driving the cost of electricity through the roof. House Bills 4759-4761 would prematurely close natural gas plants and ban propane, biomass, landfill gas, nuclear, and other low- to no-carbon power sources.
"The governor and her friends on the far left are so focused on appeasing the environmental lobby that they're ignoring the concerns of residents who lose power every time the wind blows," DeSana asked. "Our grid does not have to be this fragile. Our roads and tree lines do not need to be this vulnerable. Instead of fixing these problems, Democrats think it's time to start wasting money on 'green' infrastructure. I believe you should fix what's broken before starting something new. Right now, they should be joining us in the tough work of facing our problems and drafting solutions. Instead, they expect us to fiddle while Michigan burns. We will not."
Rep. DeSana and his office can be reached at [email protected] or (517) 373-0475.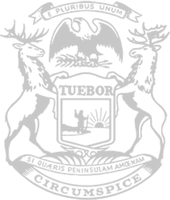 © 2009 - 2023 Michigan House Republicans. All Rights Reserved.
This site is protected by reCAPTCHA and the Google Privacy Policy and Terms of Service apply.