Posthumus warns House ethics crisis has hit "a new low" as Democrat member moves to profit directly off his own bill
Rep. Bryan Posthumus spoke out strongly today following a marathon House session in Lansing that saw dozens of bills come to the floor for votes.
One of those bills that passed was HB 5122 sponsored by Democrat member Phill Skaggs. This bill elaborates and expands the potential zoning rights of solar companies — a relatively small bill except for the fact that both Rep. Skaggs and his wife who is a lobbyist have and continue to directly profit from their connections to solar companies.
"Today we saw the people of Michigan robbed in real time before our eyes and our Democratic leadership did nothing to stop it or even call it out," Posthumus said following today's House session. "Today our House ethics crisis hit a new low. This is not the first time Rep. Skaggs has used his position to secure profits for either himself or his wife in her lobbying career. It's not subtle. It's not secret. And it's not stopping. This and other ongoing scandals have been investigated exactly zero times by leadership. At this point, the people would be fair to assume they are either powerless to stop it, interested in continuing it or too afraid to manage either."
By other scandals Posthumus stated he is alluding to Appropriations Chair Rep. Angela Witwer who earlier this year was caught funneling state money toward her own PR firm and Rep. Joseph Andrews who is now pushing hard on solar legislation while he himself owns a solar company.
Posthumus moved to have the conflict of interest with Andrews specifically addressed by Speaker Pro-Tem Lori Pohutsky, but she overruled, and session continued with no further comment from Democrat leadership.
"Witwer, Skaggs and Andrews are the ones we know about because the Dems are happy to wave them right in the people's face," Posthumus said. "But real leaders don't let corruption fester behind party lines. They confront it, confess it and face the consequences. I'm only in my second term and in the minority and I fell I've done more to investigate these issues than our actual leadership has. That's more than pathetic. It's complicit."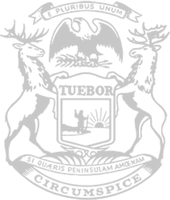 © 2009 - 2023 Michigan House Republicans. All Rights Reserved.
This site is protected by reCAPTCHA and the Google Privacy Policy and Terms of Service apply.