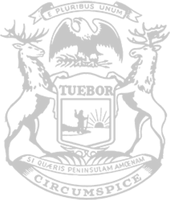 State Rep. Matt Hall, of Marshall, speaks on House Bill 4127 before the Michigan House of Representatives on Tuesday, March 9. Hall's reforms work to re-establish trust in Michigan's elections process by addressing unknown dates of birth and inactive individuals on voter rolls.
Michigan House approves plans offering clarity to state's elections process
A proposal from state Rep. Matt Hall which will give people more faith in Michigan's elections process today was advanced in a vote by the Michigan House.
House Bill 4127 establishes a procedure to remove dead people and individuals listed on the qualified voter file with unknown dates of birth, and the legislation requires verification of a person's birth date.
Hall underscored testimony in the House Oversight Committee from the state Auditor General during the 2019-20 legislative term as the committee examined concerns people had regarding November's election. It was disclosed in that testimony that many people on Michigan's voter rolls are over 120 years old according to their birth dates listed – older than the oldest-living person in the world. In addition, over 300,000 people on the rolls are inactive voters who haven't voted in over 20 years.
"Despite the Auditor General's finding that the qualified voter list needed clean up, the Secretary of State mailed millions of unsolicited absentee ballot applications," said Hall, of Marshall. "When you have that many ballots going out to addresses and such a large portion of the voter list in question due to the factors the Auditor General disclosed, it creates issues. It jeopardizes trust and integrity. And people lose confidence in the free and fair elections that are a pillar of our democracy."
As chair of the House Oversight Committee during the historic 100th Michigan Legislature, Hall worked with the Senate Oversight Committee to hold numerous hearings on Michigan's elections spanning several hours. The hearings covered election concerns and sought a clear picture of state and local elections processes. The hearings also developed ideas and recommendations for what could help re-establish trust in Michigan's elections after so many had voiced concerns.
Hall outlined his findings from the hearings in a letter to the House Elections and Ethics Committee and the House Oversight Committee – including qualified voter file reforms, improved training for election workers, poll challengers and clerks, signature verification guidelines and checks to rein in unsolicited absentee ballot mailings. HB 4127 was offered and considered following the letter.
"This proposal works to remedy clear concerns people have with Michigan's elections process," Hall said. "We heard their concerns and have responded with legislation that will help re-establish trust going forward."
HB 4127, along with other election-related proposals approved by the House, now advance to the Senate for consideration.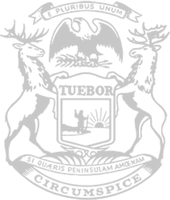 © 2009 - 2021 Michigan House Republicans. All Rights Reserved.
This site is protected by reCAPTCHA and the Google Privacy Policy and Terms of Service apply.