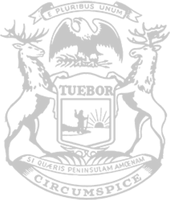 State Reps. David Martin, left, and Mike Mueller discuss their plan to provide permanent and stable funding for the state's secondary road patrol program.
Michigan House approves plan to protect police funding for rural road patrols
Reps. Mueller, Martin, Brann offer solution to provide stable funding source
State Reps. Mike Mueller, David Martin and Tommy Brann today led the House in approving a plan to provide permanent and stable funding for a program that provides police protection to rural Michigan communities.
The state's secondary road patrol program provides funding for sheriffs' deputies to patrol roads outside of cities and villages. The program has been funded by a $10 assessment added to traffic tickets, but this funding has declined over the last 20 years.
"Every year, the Legislature must have a conversation about how much, if any, general fund money will be allocated to secondary road patrols," said Mueller, of Linden, a retired sheriff's deputy. "Meanwhile, residents face uncertainty every year about whether their neighborhood will continue to have adequate police coverage. And patrol officers are left in limbo, worrying about the status of their job while the Legislature crafts its budget."
"This plan solves a problem the state has been trying to fix for the last 20 years by providing a stable funding source for the secondary road patrols that serve and protect so many Michigan communities."
House Bills 5772, 5773, 5732 and 5569 will stabilize the funding by dedicating $15 million of the liquor excise taxes collected by the state each year to the program. The bills do not increase the tax on consumers in any way.
"Relying on revenue from traffic tickets to fund a police program not only creates a bad public perception – it's simply not working," said Martin, of Davison. "We're solving the problem by establishing reliable funding from liquor tax revenue, which increased during the pandemic."
Over the past several years, revenue collected from the state's 4-percent excise tax on spirits has increased from $54.7 million during the 2016-17 fiscal year to $80.5 million in 2020-21.
Matthew M. Saxton, CEO and Executive Director of the Michigan's Sheriff's Association, voiced support for the plan.
"The members of the Michigan Sheriffs' Association would like to thank Representatives Brann, Mueller and Martin for their efforts in helping to attain a commonsense solution to a long-standing funding concern for the secondary road patrol program," Saxton said. "This package of bills that the House of Representatives passed in bipartisan fashion today will resolve our issues for years to come. The package of bills provides sheriffs and counties certainty of funding, stability of staffing and safety for the citizens of Michigan."     
The plan now advances to the Senate for further consideration.
###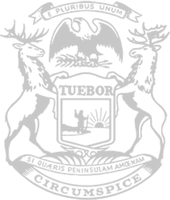 © 2009 - 2023 Michigan House Republicans. All Rights Reserved.
This site is protected by reCAPTCHA and the Google Privacy Policy and Terms of Service apply.