Leader Hall: Gov. Whitmer keeps crafting secret tax hike behind closed doors
House Republican Leader Matt Hall, R-Richland Township, on Wednesday issued the following statement:
"The public outcry from Michiganders across the state has blown up Gov. Whitmer's attempt to bankroll corporations by raising taxes on people and small businesses. Now, she appears to be going back to the drawing board for several days to plot a new way to sneak through her secret tax hike. Democrat and Republican lawmakers alike should be united in opposing the governor's plan to push around the Legislature and force a tax hike on the people of Michigan. When I chaired the House Tax Policy Committee, I would have strongly opposed any governor trying to shut me out of the process, but Democrat committee chairs have shrugged as she cut them out. Gov. Whitmer is moving a shell bill behind closed doors to keep pushing her shady shell games while advancing another secret spending bill. The people's representatives — of both parties — must unite against the governor's attempt to block the people's tax relief just to benefit large corporations."
###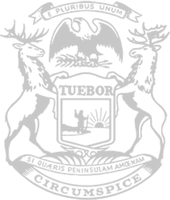 © 2009 - 2023 Michigan House Republicans. All Rights Reserved.
This site is protected by reCAPTCHA and the Google Privacy Policy and Terms of Service apply.