What's up! With Woz – Transparency Matters
In this edition of What's Up, with Woz! we will be discussing the lengths to which the current legislative majority has gone to decrease transparency in the state budget. They have eliminated reports that require state departments to account for how public tax dollars are spent.
For example, reports about the state's: pension debt; road bond debt; millions of dollars for IT contractors; and the number of state employees who work remotely… have all been eliminated. By increasing contingency spending limits, the majority is giving unelected bureaucrats something akin to a blank check to spend money without input from legislators and the people we represent.
The proposed budget also strips away important safeguards that allow legislators to take action if bureaucrats spend irresponsibly. Without these safeguards, unelected state employees can spend enormous sums of money without having to account for their decisions.
My Republican colleagues and I have repeatedly raised concerns about taking transparency and accountability measures out of the budget, but the current majority has ignored our concerns and rejected every amendment offered to restore transparency.
If you have questions or comments, please call or email my office!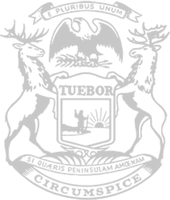 © 2009 - 2023 Michigan House Republicans. All Rights Reserved.
This site is protected by reCAPTCHA and the Google Privacy Policy and Terms of Service apply.