Vote explanations for 4/25 – 4/27
As you may be aware, the House held several critical votes this week. Below, I have given a brief explanation for my votes on legislation:
House Bills 4146-4148 – These bills implement the "extreme risk protection order" act, otherwise known as the "red flag" law in Michigan. This legislation makes it easier for the state to deprive someone of his or her Second Amendment rights without due process of law, even in cases where no crime has been committed. The constitutional right to keep and bear arms cannot and should not be ignored or denied to those who have not been duly convicted through due process of law. For this reason, I voted NO on House Bills 4146, 4147, and 4148.
Unfortunately, each of these bills was passed by a straight party-line voted and is now headed to Governor Whitmer's desk in order to become law.
House Bill 4054 – this bill (along with Senate Bill 97) was introduced by Republicans in the Legislature to amend ethe General Sales Tax Act by exempting the production, manufacturing, and recycling of aggregate products such as crushed stone, sand and gravel, and more from the state sales tax so long as the use tax is paid. Making this change is a great way to ensure that companies in Michigan do not have to pay more taxes unnecessarily in conducting their business. I voted YES on House Bill 4054. The bill passed the House by a vote of 85 to 23.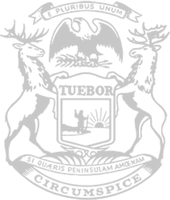 © 2009 - 2023 Michigan House Republicans. All Rights Reserved.
This site is protected by reCAPTCHA and the Google Privacy Policy and Terms of Service apply.