Senate panel approves Rep. Damoose plan to protect Mackinac Bridge, other critical infrastructure
The Senate Committee on Transportation and Infrastructure today unanimously approved state Rep. John Damoose's plan to protect Michigan's most important bridges by increasing penalties for illegal entry.
Damoose, R-Harbor Springs, introduced House Bill 5315 last year after a person was only charged with a misdemeanor after wearing a backpack while illegally climbing on the underside of the Mackinac Bridge, causing the bridge to be shut down for roughly two hours. The Mackinac Bridge Authority has expressed support for Damoose's legislation.
"Michigan bridges help people travel — over inland rivers and lakes, from one peninsula to the other, and even across the border to Canada," Damoose said. "These critical structures carry local residents going about our daily lives, tourists vacationing here, and commercial trucks supplying the goods we need, so a risk to our bridges is a serious risk to everyone. Stronger penalties for illegal entry will help deter and punish anyone who endangers the operation of our bridges, whether that person intends harm or simply acts recklessly."
Specifically, Damoose's plan would add many major bridges to the state's official list of key facilities, which enjoy enhanced legal protection against intruders. Existing key facilities include such locations as chemical manufacturing facilities, refineries, power plants, hazardous waste storage, cell phone towers, ports and trucking terminals. A person entering or remaining on the premises of a key facility without authorization may be convicted of a felony and face up to four years in prison and a $2,500 fine.
The bill would designate the Mackinac Bridge, Zilwaukee Bridge, Rouge River Bridge, MacArthur Bridge, any movable bridge, and any international bridge or tunnel as key facilities, provided that conspicuous signage is posted to warn against entry to off-limits areas.
HB 5315 now proceeds to the entire Senate for consideration.
###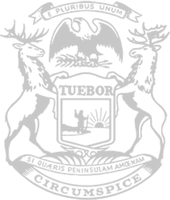 © 2009 - 2023 Michigan House Republicans. All Rights Reserved.
This site is protected by reCAPTCHA and the Google Privacy Policy and Terms of Service apply.