Borton, Roth defend Antrim County judicial system after Nessel comments
Legislators call on attorney general to apologize
State Reps. Ken Borton and John Roth today called on Attorney General Dana Nessel to apologize for inappropriate remarks she has made on several occasions about the people of Antrim County and its judicial system.
The Detroit News reported that during a virtual event with the organization Protectors of Equality in Government, Nessel stated: "…it seemed to me as though the Antrim County jurors, (in a) very, very right-leaning county (were) seemingly not so concerned about the kidnapping and assassination of the governor."
Roth and Borton, who each represent portions of Antrim County, issued a letter to the attorney general condemning her comments.
"Questioning the integrity of a jury and claiming your department lost its case because the trial was held in 'a very right-leaning county' is totally inappropriate for your esteemed position," the letter states. "Further suggesting that future trials should be moved to 'a very, very Democratic-leaning county' downstate is an utterly disgraceful politicization of our judicial system. Even if you don't consider this a politicization of our judicial system, certainly the jury and judges of this area find it degrading to be dismissed simply because of the county's 'political leaning.'"
The legislators said they stand by Antrim County's judicial system and the jurors who served on the case.
"Implying that the people of Antrim County are unfit to serve as jurors simply because of their supposed political leanings is inappropriate and offensive," Roth said. "The individuals selected for the jury are just as qualified as anyone else in the state to determine right from wrong. The attorney general owes them an apology."
"I understand the attorney general is dissatisfied with the decision of the jury," Borton said. "But her dismissive comments are unwarranted. Whether she likes it or not, these qualified jurors were selected in a lawful manner. Their decision must be respected."
###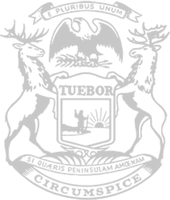 © 2009 - 2023 Michigan House Republicans. All Rights Reserved.
This site is protected by reCAPTCHA and the Google Privacy Policy and Terms of Service apply.