Reps. Lightner, O'Neal call on Congress to fund depredation grants for farmers
RELEASE
|
September 6, 2023
Program helps Michigan farmers whose livestock is threatened by wolves
State Reps. Sarah Lightner and Rep. Amos O'Neal today called upon Michigan's Congressional delegation to fully fund a grant program that helps compensate farmers whose livestock are killed by gray wolves and other predatory animals protected by the federal government.
Lightner, R-Springport, and O'Neal, D-Saginaw, sent a letter urging Michigan's federal lawmakers to advocate for the grant program, created by the American Conservation Enhancement (ACE) Act in 2020. The program relies on an annual allocation from Congress to continue operating.
"Our shared aim is to ensure the continued reduction of human-wildlife conflicts while safeguarding the economic stability of working landscapes and essential wildlife habitats," the letter reads. "Moreover, we hope to properly compensate our farmers who, for no fault of their own, face losses due to the predation of federally protected species."
If fully funded, the program offers $10 million in grants to cover livestock losses due to depredation and $5 million in grants for proactive and nonlethal activities to reduce the risk of livestock loss due to depredation.
According to the Michigan Department of Natural Resources, the amount of indemnification payments made in Michigan can fluctuate widely depending on how many wolf depredations occur each year. In the last 10 years, annual indemnification payments for wolf-livestock depredations have ranged from about $1,900 to $31,600.
A full copy of the letter is available here.
###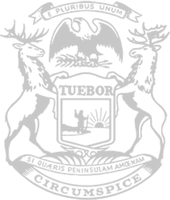 © 2009 - 2023 Michigan House Republicans. All Rights Reserved.
This site is protected by reCAPTCHA and the Google Privacy Policy and Terms of Service apply.