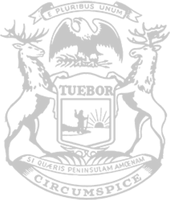 World War II veterans Lee Hausler and Herb Elfring (center) were presented with flags and tributes at the state Capitol today in recognition of their 100th birthdays. From left: Rep. Sarah Lightner, Rep. Thomas Albert, Hausler, Elfring, House Speaker Jason Wentworth and Rep. Julie Alexander.
Reps. Lightner, Alexander honor 100-year-old Jackson County veterans
State Reps. Sarah Lightner and Julie Alexander today recognized three Jackson County World War II veterans who all recently celebrated their 100th birthdays.
Leland "Lee" Hausler and Herb Elfring joined the representatives in Lansing for a reception at the Capitol, where they were honored on the House floor with tributes and U.S. flags flown over the state Capitol building. St. Clair "Sam" Jacobs was also recognized but was unable to attend.
"Of the 16 million Americans who served in World War II, only about 240,000 are still living," said Lightner, of Springport. "It is a great honor to pay tribute to these three centenarians who deserve our respect and recognition for the sacrifices they have made throughout their lives."
Herb Elfring, born March 29, 1922, served in the Army National Guard from 1940-45. He is one of only 100 known servicemen still living who survived the attack on Pearl Harbor on Dec. 7, 1941. He has been awarded various medals, including a WWII medal, American Defense Medal, and The American Campaign Medal. Herb was an engineer at Consumers Energy from 1950 to 1985. Herb and his wife Ruth had five children, eight grandchildren, and seven great-grandchildren. Herb remains active in the community at his church and veterans events, and to this day remains an active square dancer.
Sam Jacobs was born April 1, 1922, in a big white farmhouse in Jackson County and remained a lifelong resident. He served in the Coast Guard from 1942-46 as a guardsman on horseback in Texas. The presence of these guardsmen gave American citizens a sense of security, as the threat of German coastal invasions was very real. Sam was married to his late wife Ruth for 68 years. They had two children, two grandchildren, and four great-grandchildren. On his 99th birthday, Sam enjoyed a ride in an open-air cockpit of a WWII era biplane provided by Dream Flights. He recently celebrated his 100th birthday in Concord when they proclaimed it "Sam Jacobs Day." 
Lee Hausler, born April 2, 1922, enlisted in the Army Air Corps in 1943 and was stationed in North Africa as a weatherman. Following his service Lee worked for Consumers Power, beginning his career at the company's coal-fired plants, and then serving as the first superintendent of Michigan's first and second nuclear plants. Lee and his wife Margaret were married nearly 67 years before her death in 2010. They have 12 children, 30 grandchildren and 15 great grandchildren. At 100 years old, Lee still prefers to be outdoors, walking around his home, visiting nearby parks and trails, and watching the birds at his bird feeders. 
"It's a pleasure to recognize these Jackson County heroes who have lived through so much over the past century and continue to live life to the fullest each day," Alexander said. "It's a true blessing to have all three of these men, born just four days apart from each other, living in my home county. I'm glad to have the opportunity to welcome them to the State Capitol today where they received the recognition, applause and thanks they deserve."
###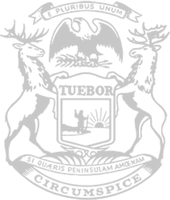 © 2009 - 2023 Michigan House Republicans. All Rights Reserved.
This site is protected by reCAPTCHA and the Google Privacy Policy and Terms of Service apply.