Reps. Griffin, Wendzel: Michigan Legislature convinces critics of need for commonsense election reform
RELEASE
|
September 29, 2022
Reps. Beth Griffin and Pauline Wendzel once again championed commonsense election security solutions today in the Michigan Legislature – and this time, it's part of a long-overdue bipartisan agreement the governor is expected to sign.
The legislation on the way to Gov. Whitmer's desk will improve security around ballot drop boxes, remove dead voters from official voting rolls, and make other important changes. The agreement includes some measures the governor had previously vetoed twice.
"I'd like to thank everyone who reached out, called or emailed to express their deep concerns about election integrity – you helped drive good policy," said Rep. Griffin, R-Mattawan. "For two years, Republicans in the state Legislature have pushed for commonsense, constructive reforms to improve the security and accuracy of Michigan elections. We were called extremists, accused of 'crying wolf,' and routinely met with denials, indifference, and outright hostile opposition at every turn. All of a sudden it's election time – and the governor, Secretary of State and House Democrats decided that we were right all along. These hard-won changes are significant improvements. Tonight, we are one step closer to making elections safer and more secure for voters across Michigan."
Rep. Wendzel is vice chair of the House Elections and Ethics Committee, and formerly served as Deputy Clerk of Bainbridge Township.
"The most sacred thing a person has in our democracy is their voice through their vote, and tonight, we took a meaningful and bipartisan step toward ensuring the voices of Michigan residents are securely heard," Rep. Wendzel said. "For years, clerks have been asking for these commonsense changes, but it took an election year and significant pressure to finally get the governor on board with these bipartisan proposals. After nearly two years of work, I'm glad we finally made the lives of our clerks easier, our elections more secure, and that the governor finally joined a commonsense majority of Michigan residents who care about free, fair, safe, and secure elections."
The changes approved by the Legislature tonight will:
–Require the Secretary of State and county election clerks to clean up official voter rolls every month, removing dead voters from the lists and decreasing the chances of fraud.
–Create a chain of custody for absentee voter ballots, including better tracking of ballots retrieved from drop boxes.
–Allow electronic return of ballots for active duty military members stationed overseas.
–Allow preprocessing of absentee ballots for two days before Election Day.
The reforms are included in House Bill 4491, Senate Bill 8 and Senate 311.
###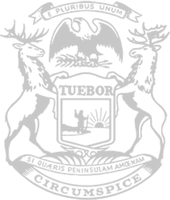 © 2009 - 2023 Michigan House Republicans. All Rights Reserved.
This site is protected by reCAPTCHA and the Google Privacy Policy and Terms of Service apply.