Rep. Zorn votes NO on budget over lack of additional police funds
Rising crime rates demand funding for officer recruitment and retention
Rep. Dale Zorn, voted against the Democrat -majority proposed budget last week citing lack of transparency in negotiations and funding for police that was meant to tackle recruitment and retention challenges amid a rise in crime throughout the state and the overall unsustainability of this budgets funding demands.
"The term 'defund the police' comes to mind when I look at this bill," Zorn said. "It redirects $30 million of law enforcement funds to other departments and $4.3 million was budgeted for a new non-armed unit that will take police reports.   Report taking is at the core of police services and should not be taken lightly as incidents can turn dangerous quickly. This type of program will put non-police responders at risk."  Additionally, police security for the governor, attorney general and secretary of state was increased, yet our community law enforcement was decreased. And that's not something I can support
"This budget would also decrease local road funding for rural roads and local municipalities yet put more money into state highways – when the exact opposite is what we need. And the waste just keeps going from there. The Dems approved the House budget at $81 billion, up $9 billion over last year by using a record $9 billion from reserves.   Using all the reserve funds will only allow $250 million left in that reserve making this budget unsustainable going forward."
These many budget bills were presented for a full vote before the House of Representatives after a tumultuous committee process where zero Republican amendments were adopted. On the floor, the majority again refused to adopt a single Republican amendment – even those providing additional funding for public safety and the equitable funding of road repairs outside of the largest metropolitan areas. 
Rep. Zorn and his office can be reached at (517) 373-8808 or [email protected].
#####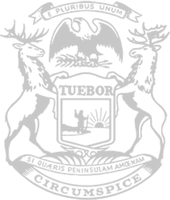 © 2009 - 2023 Michigan House Republicans. All Rights Reserved.
This site is protected by reCAPTCHA and the Google Privacy Policy and Terms of Service apply.