Rep. VanWoerkom's plan to cut taxes for small businesses is now state law
Rep. Greg VanWoerkom's plan to provide crucial tax cuts for small businesses throughout Michigan is now state law.
House Bill 4054, now Public Act 30 of 2023, amends the state tax code to clarify that equipment used for industrial processing to produce aggregate materials such as gravel, sand, recycled concrete and other critical construction materials is exempt from sales and use tax.
"Relief is finally in sight for Michigan's industrial processing businesses. Existing tax laws have created an unfair environment, but with this new law on the books, state tax collectors can no longer using vague laws and interpretations to target Michigan businesses. Our solution makes the tax code crystal clear on this issue."
A lack of clarity under previous law allowed the state to unfairly penalize small businesses. Producers provided sellers of their industrial processing equipment with an exemption certificate which indicates that the equipment is exempt from sales and use tax, but state treasury audits disputed the exemption since users of aggregate often pay use tax on products instead of sales tax.
The new law squashes these types of disputes – which have led to cumbersome and costly processes for job providers – so that the exemption can be easily applied.
VanWoerkom's bill, part of a larger package of tax code reforms introduced by Republicans, had overwhelming bipartisan support in the Legislature prior to becoming law. He helped develop another bill in the package, now PA 20 of 2023, clarifying that businesses are only required to collect sales and use tax for the sale of tangible goods, not for the cost of delivery and installation services for those goods.
"This was another foggy part of our tax code that the Treasury Department was using to penalize small businesses," VanWoerkom said. "It was never intended to function the way the tax collectors were applying it. These bills simply clear up our tax code and protect Michigan businesses."
VanWoerkom serves as Republican vice chair of the House Tax Policy Committee and is committed to reducing tax burdens for Michigan families, workers, and job providers.
###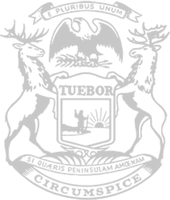 © 2009 - 2023 Michigan House Republicans. All Rights Reserved.
This site is protected by reCAPTCHA and the Google Privacy Policy and Terms of Service apply.