Rep. VanWoerkom's plan for more affordable, accessible child care wins bipartisan support in Michigan Legislature
The Michigan House today gave final legislative approval to Rep. Greg VanWoerkom's plan to help families find affordable, high-quality child care.
The legislation – approved with overwhelming bipartisan support – will allow top quality providers to care for more children, expand care for infants and toddlers in underserved areas, and help providers locate in multi-use buildings where families live and work. Providers will be allowed to share certain health and safety records online to help parents access important information, and more ownership disclosure will be required to prevent bad actors from reopening in new locations or under different names.
"This legislation is part of our vision to make Michigan an even better place to live, work, play and raise a family," said VanWoerkom, of Norton Shores. "We have identified a problem – lack of affordable, accessible child care – and we are generating solutions so families and our state's economy can fully thrive."
VanWoerkom noted child care is often so expensive and hard to find that it doesn't make financial sense for both parents to work – leaving many at home and out of the labor force. Child care became even less accessible and affordable during the COVID-19 pandemic.
House Bills 5041 through 5048 advance to Gov. Whitmer for her consideration.
VanWoerkom has championed child care system improvements throughout his tenure in the Michigan House. The MI Tri-Share Child Care Pilot Project recently expanded to cover more than half of Michigan's 83 counties. The program involves employers, employees and the state splitting the costs of child care with coordination provided by localized facilitator hubs.
VanWoerkom also helped direct $1.4 billion in federal funding to support child care grants, temporarily increase provider reimbursement rates, and make programs accessible to more families.
###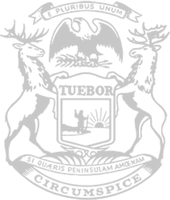 © 2009 - 2023 Michigan House Republicans. All Rights Reserved.
This site is protected by reCAPTCHA and the Google Privacy Policy and Terms of Service apply.