Rep. VanWoerkom: Michigan House budget plan 'setting up the state for future success'
Rep. Greg VanWoerkom this week helped lead Michigan House approval of a budget plan that would boost economic growth, invest in education, invest in public safety and pay off government debt – laying the foundation for success across the state.
VanWoerkom, of Norton Shores, chairs the House Appropriations General Government Subcommittee – covering multiple state departments and agencies that affect Michiganders in a wide variety of ways. The plan approved by the House also includes funding for schools and several other initiatives for the state budget year that begins Oct. 1.
"We are setting up the state for future success," VanWoerkom said. "We invest heavily in the next generation with increased funding for schools. We invest in innovative ways to help workers sharpen their skills so they can get and keep good jobs. We invest in initiatives families and communities need to thrive, and we are taking a lot of debt off the table for communities so their local budgets will be a little easier to manage moving forward. These initiatives will all help make Michigan an even better place to live."
The General Government plan led by VanWoerkom includes $30 million in competitive grants to assist business incubators around the state, such as Lakeshore Advantage's SURGE Center in West Michigan. The overall budget also invests in Pure Michigan, Going PRO and Michigan Reconnect – all of which play pivotal roles in providing jobs and sparking the economy.
A school aid fund of nearly $20 billion includes a record-high per-pupil foundation allowance of $9,000 per student, up $300 per student from the current year and more than $2,000 from a decade ago. The House plan includes more than $500 million for teacher recruitment and retention, $500 million in school safety and mental health initiatives, an additional $210 million for special education cost reimbursements, and more resources for rural transportation. These investments come on top of the more than $6 billion in federal COVID-19 relief the Michigan Legislature has approved for schools in the past two years.
The House plan continues critical investments in infrastructure – including a Department of Transportation budget proposed at nearly $6.8 billion, up $1.3 billion from the current year. About $750 million would be set aside specifically for local roads.
The plan invests more in public safety – including local officer recruitment and retention – and water infrastructure for communities across the state. The plan also provides $1.2 billion to reduce debt in local government employee retirement systems – a necessary step to maintain local public services and prevent tax increases in the long run. More debt is paid off in school employee pension systems as well.
VanWoerkom said several measures ensure government functions more effectively, including a provision that state employees must work in offices if they worked in offices prior to the pandemic.
The House plan – which now advances to the Senate for further consideration – also leaves room for $1 billion in tax relief. Specifics will be explored as the budget process moves forward.
###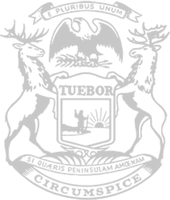 © 2009 - 2023 Michigan House Republicans. All Rights Reserved.
This site is protected by reCAPTCHA and the Google Privacy Policy and Terms of Service apply.