Rep. Thompson stands up for Downriver communities against reckless Democrat giveaway
Legislator votes against bad deal for taxpayers
State Rep. Jamie Thompson on Wednesday voted against a plan that doesn't prioritize a return on taxpayer investment, raises serious questions about foreign involvement in Michigan business and originally would have benefitted a company causing concern for Downriver families and communities.
House Bill 4016 spends massively to attract a new Ford plant to Marshall. The current price tag is $1.8 billion – an astronomical cost of $700,000 per estimated job created. Ford will also collaborate with a Chinese supplier on the project, despite tensions between the United States and China that featured the latter flying a suspected spy balloon over sensitive U.S. military sites in February. 
In addition, the plan would have likely directed $15 million in taxpayer money to Norfolk Southern Railway Company. But that allocation for the project was scuttled in embarrassing fashion as the company's conduct has made national news.
"It was flat out ridiculous that state government was even positioning itself to hand over taxpayer dollars to an entity whose gigantic, ongoing mess continues," said Thompson, of Brownstown. "With this initial plan – along with the huge bill taxpayers will be footing with little to no oversight – it was important to take a stand for our region and hard-working taxpayers who call it home."
Norfolk Southern Railway Company recently had two trains derail – one in East Palestine, Ohio which caused toxic material to be released, and another in Van Buren Township.
The Department of Environment, Great Lakes, and Energy (EGLE) announced late last week that contaminated soil and water from the Ohio train had been destined for a pair of disposal sites in Romulus and Belleville. The Environmental Protection Agency ordered the shipment be halted, but EGLE conceded some amount of liquid waste from the site may have already been disposed in Michigan before the order came down.
The department also noted Norfolk Southern Railway Company chose which sites would receive the hazardous waste. The Romulus landfill was recently found to be in significant noncompliance with federal hazardous waste law, according to EPA records.
After joining blindsided and outraged Downriver residents at an event over the weekend, Thompson planned an amendment to the supplemental spending measure that would prohibit recipients of the spending from contracting with Norfolk Southern.
"We still need answers for this company's actions, as well as what is being done to both address and prevent clear failures," Thompson said. "I'm going to continue fighting for transparency. As we work for it, it's important to live up to our role as good stewards for the tax dollars afforded to us. We must make responsible decisions with information at-hand and the people we represent in mind.
"Letting this company move hazardous waste into people's backyards across our area while potentially pocketing $15 million of their hard-earned tax dollars in the process would have been an incredibly reckless decision. Our communities are not toxic hubs for companies and other states. I am glad we fought to take out this particular investment, but this plan still doesn't respect taxpayers whatsoever."
Thompson proposed a separate amendment that helps protect residents from overexposed electrical grids. It would have set aside $200 million in grants for people who experience power outages lasting longer than 48 hours and invested in a cost study for grid updates as the state moves to attract large corporate projects that demand more utility usage.
The first-term legislator pointed to a recent ice storm that has left some in southeast Michigan without power for a week.
"Family budgets are already stretched thin due to inflation, and now people have extra expenses as a result of these outages," Thompson said. "Our electrical grid isn't an endless source. We need forward-thinking plans that are fair to hard-working people and prevent issues in the future."
Democrats in the House voted down the amendment after it was offered.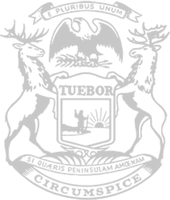 © 2009 - 2023 Michigan House Republicans. All Rights Reserved.
This site is protected by reCAPTCHA and the Google Privacy Policy and Terms of Service apply.