Rep. Steele: Democrat reliability plan forgets to improve reliability
Rep. Donni Steele, R-Orion Township, today released a statement regarding the House Energy Committee passage of a Democrat energy reliability plan.
"This legislation has more holes than the Swiss cheese that spoiled in my fridge the last time we lost power for a week. Reliability isn't giving utilities two years to provide a useless report; reliability is ensuring the power doesn't go out in the first place.
"Democrats aren't coming to terms with the fact that even the greenest power will still travel our unreliable power lines. We need to be allocating resources to ensure these outages stop happening. Our dollars need to be invested in burying lines and finding other ways to keep the lights on.
"Last week, Democrats pushed through energy legislation that will raise rates and make our grid less reliable. This week, we're playing make believe with a reliability package that does nothing to guarantee you won't be sitting in the dark the next time the power goes out.
"My friends and neighbors and all Michigan residents have been loud and clear; they want their power on. Our families need utilities they can rely on. Coolers are for summer picnics not makeshift refrigerators. Fall storms are for splashing in puddles, not dinners in the dark. Snow days are supposed to be fun; eating cold food and huddling to stay warm isn't fun. Michigan is expecting us to work on a real reliability package that will keep the power on and give families reassurances they won't freeze over Christmas.
"Every time there is an outage, I hear 15 to 20 dangerous gas generators power up in unison around me. The deafening roar reminds me of the filthy emissions pouring into our atmosphere. They aren't reliable or green. So, next time the power is out and we're using flashlights to find the blankets in our basements, we can think back and thank Democrats for really tackling that reliability issue."
###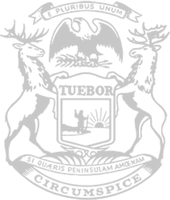 © 2009 - 2023 Michigan House Republicans. All Rights Reserved.
This site is protected by reCAPTCHA and the Google Privacy Policy and Terms of Service apply.