Rep. Roth: Northern Michigan abandoned as House passes green energy mandates
House Democrats ignored Northern Michigan Thursday as they steamrolled their radical green energy agenda through the House. State Rep. John Roth expressed major concerns about the legislation forcing unreliable, unsustainable, and expensive energy sources onto rural Michigan.
The legislation also cripples local control by giving the Michigan Public Service Commission – a three-member board appointed by the governor – the sole authority to permit large solar and wind construction.
"House Democrats have officially killed the lights on Northern Michigan families," said Roth, R-Interlochen. "This plan makes us more reliant on energy sources that have already proven completely unreliable. My district came out hard against these bills, and Democrats fully ignored them. They chose to give in to far-left environmental activists with no regard for rural Michigan."
Senate Bill 271 changes the state's existing renewable energy standard as laid out in a bipartisan plan adopted in 2016. Currently, the renewable energy standard is set at 15%, but the partisan plan approved today would periodically increase the standard, ultimately spiking to 60% by 2033. Then a new clean energy standard of 80% by 2035 and 100% by 2040. Clean energy is defined as energy generated without emitting greenhouse gas or being fueled by natural gas.
"Our families are already drowning in bills," Roth said. "Now, Democrats are expecting families to tread water with the lights off. Green energy hasn't been able to fulfill the small amounts of energy currently asked of them. How can we expect these unreliable sources to power Michigan industry and heat our homes?"
Each of the bills were ultimately approved by the House along party lines. House Bills 5120-5123 now advance to the Senate for further consideration. Senate Bills 271, 273 and 502, the clean energy mandates, will soon be presented to the governor for her expected signature.
#####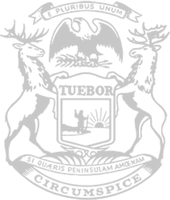 © 2009 - 2023 Michigan House Republicans. All Rights Reserved.
This site is protected by reCAPTCHA and the Google Privacy Policy and Terms of Service apply.