Rep. Roth: Comprehensive budget plan gives northern Michigan the tools it needs
Advancing proposal helps workers, families and students
State Rep. John Roth joined his House colleagues this week in advancing a state budget plan for the upcoming fiscal year that works to provide people with real tax relief while investing in important services locally.
"People across our area have felt the impacts of inflation," said Roth, of Traverse City. "They're seeing it at the grocery store, gas station and pharmacy. Hard-working small business owners are seeing it as they oversee their operations budgets. This plan is another step the Legislature is taking to offer significant tax relief to help many people who are struggling right now, while charting a road ahead so workers and families can see prosperity going forward."
Highlights of the plan for the state budget year that begins Oct. 1 include:
Tax relief: The plan leaves $1 billion for annual tax relief starting in the upcoming fiscal year that will put more money back in people's pockets across northern Michigan – significantly more than proposed by Gov. Whitmer. Her plan accounts for less than $400 million next budget year, and about $757 million once fully phased in through 2025. Whitmer has vetoed Republican plans to lower the income tax rate and suspend the gas tax, but efforts will continue to lower taxes immediately as part of the budget process.
Continued commitments to water infrastructure: State revolving funds helping communities with local water infrastructure projects would receive nearly $214 million. This comes on top of nearly $2 billion in one-time additional resources recently approved by the Legislature and already signed into law, including resources specifically to replace lead water service lines, address wastewater systems, and clean up contamination.
Better roads: The House plan includes a Department of Transportation budget of nearly $6.8 billion, including an additional one-time investment of $750 million specifically for local roads – continuing House Republican efforts to improve roads without additional tax increases.
Support for students: The House K-12 plan includes a record-high school aid fund of nearly $20 billion, including a per-pupil foundation that is up $300 per student from the current year and more than $2,000 than from a decade ago. In addition, the budget includes more than $500 million for teacher recruitment/retention, $300 million in school safety initiatives, an additional $210 million for special education cost reimbursements, and more resources for rural transportation.
"I have talked with many people throughout Grand Traverse County and their expectations are clear," Roth said. "They want the infrastructure they use every day to be dependable and safe. They want good schools for their kids to be able to learn and grow, and they expect a return on their tax dollars that are helping fund state government. This plan provides them with the resources they need to thrive."
The bills now advance to the Senate for further consideration.
#####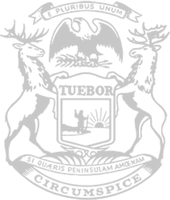 © 2009 - 2023 Michigan House Republicans. All Rights Reserved.
This site is protected by reCAPTCHA and the Google Privacy Policy and Terms of Service apply.