Rep. Rigas votes against strategic Democrat plan to move presidential primary date
State Rep. Angela Rigas today opposed a self-serving political ploy by Democrats who want to move Michigan's presidential primary elections up to February starting in 2024.
Rigas voted against Senate Bill 13, which would move Michigan's presidential primary from the second Tuesday in March to Feb. 27, 2024, and to the fourth Tuesday in February in each presidential election year after 2024.
"This is another glaring attempt by Democrats to silence Republican voices across Michigan and unfairly tilt our national elections to benefit their party," said Rigas, R-Caledonia. "It's bold when you think about it. It's essentially the proactive approach to stealing an election."
Roughly half of Michigan voters would be penalized under the plan. Due to rules that cannot be changed, the Michigan Republican Party would lose the majority of the delegates to the national convention. Instead of the 72 delegates the state had at the 2020 Republican National Convention, the number of delegates representing the voices of Michigan Republican voters at the national level would fall to 13 in 2024.
Moving Michigan's presidential primary election does not benefit voters or help local clerks. The plan is being driven by Democrat political leaders to gain an advantage for the governor and her presidential aspirations.
"Gov. Whitmer is obviously looking for an assist from the Democrat-controlled Legislature to boost her chances on the national stage," Rigas said. "This underhanded tactic won't do much good though because the governor's dismal record speaks for itself."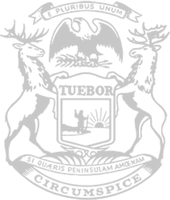 © 2009 - 2023 Michigan House Republicans. All Rights Reserved.
This site is protected by reCAPTCHA and the Google Privacy Policy and Terms of Service apply.