Rep. Martin raises election security concerns over internet voting plan
FBI, CISA describe electronic ballot return as 'high risk'
State Rep. David Martin today voiced deep concerns about a dangerous plan that would allow some voters living overseas to return voted ballots via the internet.
Despite warnings from multiple federal law enforcement agencies that flag the electronic return of ballots as "high risk," the Democrat majority in the Michigan House recently passed House Bill 4210 with a party-line vote. The bill establishes a process for military spouses and dependents living overseas to return their voted ballots via the internet, risking the confidentiality of their ballots and other personal data.
"Reports from the Cybersecurity & Infrastructure Security Agency and the FBI leave no room for doubt – any form of electronic ballot return is a high-risk endeavor," Martin said. "The security, integrity, and privacy of our elections are sacred, and it is clear that attempting to achieve these critical goals through internet voting is nothing short of reckless."
A report issued by the CISA, FBI, and other federal agencies classifies any form of electronic ballot return as "high risk." According to the report, "securing the return of voted ballots via the internet while ensuring ballot integrity and maintaining voter privacy is difficult, if not impossible, at this time."
Martin noted that current law allows military members serving overseas to return their ballots electronically using their military-issued Common Access Cards, but the Secretary of State has failed to implement this system. These cards allow service members to transmit data securely through military channels. However, House Bill 4210 would remove protections offered by the Common Access Card system and expect uniformed service members to transmit their ballots through the unsecured system established by the state.
He also noted that processes are already in place to ensure that spouses and dependents of servicemembers have access to paper ballots and sufficient time to return them.
"Our entire system of government hinges on the trust and confidence of our citizens in the electoral process," Martin said. "We simply cannot sacrifice the integrity of our elections for the allure of technological convenience."
Despite Martin's opposition, House Bill 4210 passed the House with a 56-54 vote. It's now under further consideration in the Senate.
Martin is encouraging those who want their voice heard on this issue to contact their Senator.
###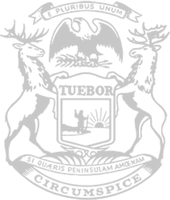 © 2009 - 2023 Michigan House Republicans. All Rights Reserved.
This site is protected by reCAPTCHA and the Google Privacy Policy and Terms of Service apply.