Rep. Joseph Fox stands up for local control as Whitmer's Green New Deal pushes state power
RELEASE
|
September 19, 2023
Rep. Joseph Fox is speaking out today against a carbon-free mandate for Michigan being pushed by Governor Gretchen Whitmer.
"Governor Whitmer wants to speed Michigan along the path to a carbon-free energy portfolio by 2035 whether or not our energy grid and our family budgets can make it work," Fox said. "For major utility companies, this means switching to green energy sources like wind and solar far sooner than they were expecting. For rural families, it means higher utility bills and solar panel farms for next-door neighbors."
The mandates will require large amounts of new construction in solar field arrays and windmill farms, as more than half of the energy grid will soon be required to come from green sources. As an example of how many solar panels would be needed to replace Michigan's current power plants, almost 1800 square miles of the state would need to be completely covered to power all of Michigan's homes and businesses. This would be roughly the size of Newaygo, Lake, and Wexford Counties combined.
"Imagine driving down M-37 and seeing solar panels stretch across the horizon instead of trees and farmland," Fox said. "Make no mistake: this equipment won't be placed in big cities; us Northern Michiganders will see our landscapes destroyed and property values plummet. Under the governor's plan, the Michigan Public Service Commission – run by three unelected bureaucrats appointed by Gov. Whitmer – will determine where these panels and turbines go. Local governments will not have a say. Any ordinance a municipality has on these devices will be overridden by state mandates. We need to push back as hard as we can against this takeover of our own backyards."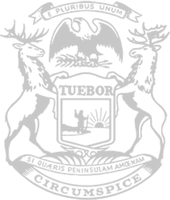 © 2009 - 2023 Michigan House Republicans. All Rights Reserved.
This site is protected by reCAPTCHA and the Google Privacy Policy and Terms of Service apply.