Rep. Johnson seeking answers on governor's controversial Florida trip
House Oversight Committee Chair Steve Johnson (R-Wayland) has sent a letter to Gov. Gretchen Whitmer asking for more details about a March trip to Florida. Johnson said the letter underscores the importance of transparency for people who demand it of their elected officials and works to ensure the state's governor acted in a lawful fashion.
Whitmer's trip came around the same time she was cautioning people to stay home as COVID-19 cases surged in Michigan. It was disclosed that a nonprofit group formed to help fund the governor's inauguration paid over $27,000 to charter a plane for the flight. Just in the last few days, the Federal Aviation Administration announced it is investigating the company hired for the flight to see if it is authorized to operate charter flights.
Johnson said the slow and consistent trickle of new information since the trip came to light April 19 has caused a need for greater scope. The questions ask for particulars on the flight, the group that funded it and costs involved, among other relevant pieces of information.
"These questions are both reasonable and important to giving the people of Michigan certainty that their governor is following proper procedures and acting within the bounds of the law," Johnson writes in the letter. Johnson has requested answers by May 27 and said refusal to cooperate will result in additional follow-up by the House Oversight Committee.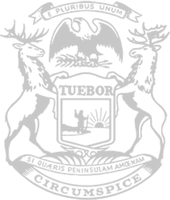 © 2009 - 2023 Michigan House Republicans. All Rights Reserved.
This site is protected by reCAPTCHA and the Google Privacy Policy and Terms of Service apply.