Rep. Hall lays out framework for improving elections in new legislative term
State Rep. Matt Hall, of Marshall, has developed key concepts to improve Michigan's elections process while restoring faith among voters.
As chair of the House Oversight Committee during the historic 100th Michigan Legislature, Hall acted swiftly in response to reported irregularities involving Michigan's elections – working with the Senate Oversight Committee to hold six total hearings spanning 26 hours. The hearings provided people expressing concerns and frustrations regarding the November election with first-hand testimony from those who witnessed events and oversaw the elections process, as well as suggestions for what could be done better in the future. Over the course of these hearings, 88 different people testified and shared their experiences with Michigan's process.
The second term lawmaker recently wrote a letter to current House Oversight Chair Steve Johnson, of Wayland, and current House Elections and Ethics Chair Ann Bollin, of Brighton, outlining impactful reforms to the state's elections system.
"We were able to talk to county clerks to get bipartisan suggestions on what could be done to improve the system. We sought physical and electronic records as well as data from Detroit, Livonia and the state's Bureau of Elections through our subpoenas, and they turned over information per our request. We continue to comb through this information," Hall said. "This was a very thorough dive into how our state conducts its elections – and this was the first general election following Proposal 3 in 2018. We had an explosion of absentee voting because of Proposal 3. The mass expansion of absentee voting left our system overwhelmed and it exposed a lot of areas for improvement.
"Now we transition to the end result – which is developing solutions for the people. The 2020 election cycle will be noted as one of the more contentious elections in the history of the United States. The trust in our elections process has been shaken and it must be restored."
The following suggestions were highlighted within Hall's letter to the two legislators:
Improving training by shoring up standards for challengers, election workers and clerks. This includes implementing signature verification guidelines for clerks.
Qualified Voter File (QVF) reforms such as prohibiting third-party organizations from having digital access to the State of Michigan's online voter registration website or qualified voter file. The letter also stresses the need for county clerks to have the authority to removed deceased persons from the file and a requirement that the Secretary of State update and correct voter rolls – with reports to the Legislature as recommended in a 2019 Auditor General Performance Review of the state's Bureau of Elections.
Enhancing security and transparency for ballots. This including cameras on all unstaffed absentee voter drop boxes, a localized absentee voter ballot application process, stiffening penalties for providing false information on an absentee voter ballot application and stating within law that no one besides family or legal guardians are permitted to deliver an individual's ballot to a polling or drop-off location.
Ensuring our technology is working as intended by calling for additional pre-election testing of election equipment.
"The people of Michigan must have confidence in our elections process because it's the foundation that keeps our country strong," Hall said in the letter. "With continued oversight and election reform, we can and will improve Michigan's electoral process, preserve integrity and give voters confidence in future elections."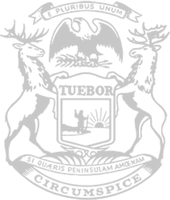 © 2009 - 2023 Michigan House Republicans. All Rights Reserved.
This site is protected by reCAPTCHA and the Google Privacy Policy and Terms of Service apply.