Rep. Hall: Governor Whitmer refuses to take steps to address state's broken unemployment system with veto
RELEASE
|
December 29, 2020
Joint Select Committee on the COVID-19 Pandemic Chair Matt Hall, of Marshall, today issued the following statement after Gov. Gretchen Whitmer vetoed $220 million that had been dedicated toward unemployment benefits within a COVID-19 relief bill. Hall noted the funding would have provided additional support to address a depletion within the UIA's trust fund, which has been accelerated by a surge in unemployment claims and fraud:
"After the Joint Select Committee on the COVID-19 Pandemic exposed significant problems within the state's Unemployment Insurance Agency and sought input on what could be done, Gov. Gretchen Whitmer showed she is unwilling to provide resources that will address previous missteps.
"UIA's trust fund is being depleted due to widespread unemployment claims drawing from the fund, as well as fraudulent claims being paid out. The agency was found by a third-party report to be chiefly responsible for these fraudulent payments going out after they disabled fraud detection tools and reassigned fraud investigation personnel. In a recent hearing in early December, our committee heard that what was once a $4 billion fund at the start of COVID-19 was now under $1 billion.
"Small business owners are on the hook for these trust fund payments – and their livelihoods have already been impacted immensely by Gov. Whitmer's shutdown orders.
"This funding would have taken some of the burden off local businesses who are charged with paying into the fund – providing Main Streets across Michigan with additional relief while the Legislature works to repair our state's broken unemployment system. But Gov. Whitmer chose to deal another blow to small businesses and hardworking people with the stroke of her pen."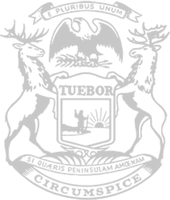 © 2009 - 2023 Michigan House Republicans. All Rights Reserved.
This site is protected by reCAPTCHA and the Google Privacy Policy and Terms of Service apply.