Rep. Griffin: Michigan Legislature approves historic plan to protect drinking water, boost access to high-speed internet and improve roads
Rep. Beth Griffin this week helped deliver resources that will protect drinking water, improve roads, connect rural areas with high-speed internet and revitalize infrastructure across Michigan.
The package approved by the Legislature is primarily funded by federal stimulus dollars and includes initiatives that Griffin has fought for during her entire tenure in the Michigan House of Representatives – particularly resources to fight PFAS and expand broadband service.
"These are infrastructure improvements that will make our communities better places to live for years to come, addressing Southwest Michigan's biggest needs," said Griffin, of Mattawan.
"People deserve to know the water they're drinking is safe no matter where they live. Students, families and businesses need access to reliable, high-speed internet for school, work and everyday life. Rural communities in particular need this help, and this plan will deliver it."
Highlights of the plan include:
Safe, clean drinking water: A nearly $2 billion investment will combat PFAS, replace lead pipes, improve sewer systems and establish "healthy hydration" centers in schools.
Broadband expansion: A $250 million investment will provide grants for establishing service in unserved areas.
Road and bridge repairs: More than $380 million will assist state and local projects across the state. Additional resources will support airports and other transportation projects.
Parks and recreation: A total of $250 million will improve state parks and an additional $200 million will benefit new projects in local parks.
Community support and development: Local communities across Michigan would receive $322 million in COVID relief and $46 million to protect against falling revenue that impacts critical local services. More support would be provided for affordable housing, along with mortgage and rent assistance.
Senate Bill 565 is awaiting the governor's consideration.
###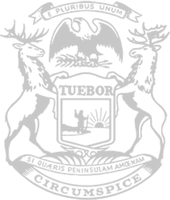 © 2009 - 2023 Michigan House Republicans. All Rights Reserved.
This site is protected by reCAPTCHA and the Google Privacy Policy and Terms of Service apply.