Rep. Griffin: Michigan budget supports workforce development, Paw Paw dam project
RELEASE
|
September 22, 2021
Rep. Beth Griffin of Mattawan helped secure vital support for workforce development across the state of Michigan, $850,000 for an infrastructure project in Paw Paw, and support for many other important programs.
Griffin and the Michigan Legislature approved a new state budget for the fiscal year that starts Oct. 1. As chair of the House Workforce, Trades and Talent Committee, Griffin is focused on finding solutions for working families and employers.
"The long-standing issues Michigan has faced with labor shortages and workforce development got worse during the pandemic," Griffin said. "This budget is a result of listening to workers and employers talk about these challenges and finding solutions."
The Going PRO initiative will receive $40 million, an $11.3 million increase from the current year. The Jobs for Michigan's Graduates Program – helping young people find success in education and employment – receives $1 million more in matching grants, bringing total appropriations to $4.75 million. Several internship and apprentice programs also receive more assistance.
The state's Pure Michigan program will focus on boosting business in segments of the economy that were disproportionately hurt by the pandemic and shutdown orders – including tourism, hospitality and recreation. Total funding is set at $40 million, up $15 million from the current year.
Griffin also helped secure funding that will specifically help southwest Michigan. Among these initiatives is $850,000 for the Briggs Dam and walkway project, assisting remediation and renovation.
"This state assistance will help both important projects move toward completion," Griffin said. "I'm pleased that the state is partnering with the Village of Paw Paw to help finish the projects as quickly as possible." The Legislature also approved more money for child care, mental health and many other services important to Michigan families. Earlier this summer, Griffin and the Legislature approved a $17 billion K-12 education plan that already has been signed into law.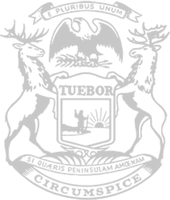 © 2009 - 2023 Michigan House Republicans. All Rights Reserved.
This site is protected by reCAPTCHA and the Google Privacy Policy and Terms of Service apply.