Rep. Griffin: Governor's high-speed internet executive directive rings hollow after previous vetoes
RELEASE
|
November 29, 2021
Gov. Gretchen Whitmer's new executive directive related to high-speed internet investment rings hollow given her track record, Rep. Beth Griffin said today.
Twice this year, Whitmer hurt rural Michigan families and communities by vetoing legislation aimed at increasing access to broadband-based internet in rural and underserved areas.
"The governor has talked about it a lot, but she actually hasn't done much to expand high-speed internet to the rural and underserved Michigan communities that need it most," said Griffin, of Mattawan. "In fact, she's gone out of her way to slow down investments to improve service across our state. That is important context for this executive directive.
"High-speed internet is a necessity that has greatly accelerated during the pandemic. Workers and businesses need it to do their jobs, kids need it to supplement classroom instruction, patients need it to consult with their doctors online – the list goes on and on. The Legislature has tried to address this connectivity crisis, but to this point, the governor has not done enough to cooperate."
Broadband service is generally defined as high-speed, always available internet access. It is costly to install – which is a problem in rural areas, which often have so few customers that companies do not see a return on investment.
Griffin sought to address this challenge through House Bill 4210 – approved by the Legislature in March, but vetoed by Whitmer in April. The legislation would lower costs for companies seeking to expand higher quality service into new areas by exempting them from personal property taxes on broadband equipment under certain conditions – and only in areas with slow internet speeds.
The Legislature approved similar legislation in late April, but Whitmer vetoed it again.
The governor's new executive directive orders state departments to begin preparing for possible use of one-time federal infrastructure funds to invest in high-speed internet, including a call to work with the Legislature.
"The Whitmer administration should be collaborating with the Legislature to expand internet service at all times – it shouldn't take an executive directive to address it," Griffin said. "But I am hopeful this signals the governor is truly serious about broadband expansion in all Michigan communities."
Griffin and the House voted in favor of a $150 million investment to connect more Michigan communities to broadband internet in May. Griffin said she will continue to fight for broadband investment as the Legislature considers infrastructure spending in the coming weeks and months.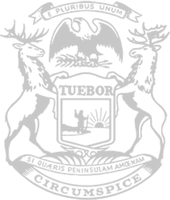 © 2009 - 2023 Michigan House Republicans. All Rights Reserved.
This site is protected by reCAPTCHA and the Google Privacy Policy and Terms of Service apply.