Rep. Griffin continues her fight to help Michigan communities improve water systems
The Michigan House today approved Rep. Beth Griffin's latest proposal to help communities across the state improve their water systems.
The bipartisan plan will simplify and streamline the process for accessing low-interest state loans that Michigan communities can use to safeguard drinking water, upgrade wastewater facilities and make other improvements to their water infrastructure. House Bills 5890-92 now advance to the Senate for further consideration.
"These state loan programs are outdated and overcomplicated – and as a result, they are underutilized," said Griffin, R-Mattawan. "Our bipartisan plan will make the programs easier for communities to use so they can tackle important projects to address water pollution and protect human health more quickly."
The legislation relates to the Drinking Water State Revolving Fund and Clean Water State Revolving Fund, which are comprised primarily of federal resources. Communities often shy away from using the funds because the application process is outdated, complex and costly – particularly for rural communities with smaller-scale projects. Communities instead opt for private bonding or other financing methods that ultimately can be more expensive.
Griffin's legislation would allow communities to use more types of documentation in the application process, avoiding the need for costly engineering studies. The state would also update its eligibility and project scoring processes as part of Griffin's plan.
It's the latest proposal from Griffin, who has made clean water a priority throughout her tenure in the Michigan House.
Griffin has helped secure more resources to address PFAS concerns in Southwest Michigan and across the state. And last year, Griffin sponsored a new state law to help municipal water systems that are becoming more energy efficient capitalize on the cost savings through the state revolving funds.
###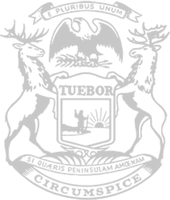 © 2009 - 2023 Michigan House Republicans. All Rights Reserved.
This site is protected by reCAPTCHA and the Google Privacy Policy and Terms of Service apply.