Rep. Griffin continues focus on helping workers, job providers after governor's State of the State address
Rep. Beth Griffin and the state House today continued their efforts to help Michigan job providers and workers recover from the COVID-19 pandemic.
Griffin, who chairs the House Workforce, Trades and Talent Committee, joined the House in approving House Bill 5524, which allocates $185 million in additional federal relief for Michigan businesses harmed by the pandemic. The plan would benefit restaurants, movie theaters, entertainment venues, fitness centers, and many other businesses. Funding would also offset or reimburse occupational licensing costs incurred by skilled trades workers, health care professionals, and many others who have had their livelihoods limited during the pandemic.
The money comes in addition to a $409 million afflicted business relief plan signed into law in December 2021. Prior to that signing, Gov. Whitmer had twice vetoed similar funding proposals to help afflicted businesses.
"During her State of the State speech, Gov. Whitmer tried to strike a bipartisan and cooperative tone – a stark contrast considering she previously vetoed legislation that would have expanded broadband access to rural communities, helped small businesses save money on federal taxes, and dozens of other bills approved by the Legislature," said Griffin, of Mattawan. "The governor also tried to take some credit for initiatives that House Republicans have led the way on from the beginning, including support to help small businesses survive the pandemic.
"In fact, the economic struggles that began for so many with the governor's shutdown in 2020 continue to this day with inflation, labor shortages and supply chain problems," Griffin said. "Businesses, and the families that depend on them to make a living, are fighting for economic survival. The Legislature has consistently led the way to help, and this relief plan approved today is another step in the right direction."
Griffin said Michigan's state government must focus more on workforce development in the months ahead.
"Michigan faced labor shortages and workforce development challenges in key areas of the economy long before COVID-19 appeared, and those problems have significantly worsened during the pandemic," Griffin said. "That's why the Legislature has fought to protect the rights of workers and job providers, and invest more in important programs such as Going PRO, Jobs for Michigan Graduates, Pure Michigan, and apprenticeships. These are the sorts of initiatives that must be prioritized moving forward."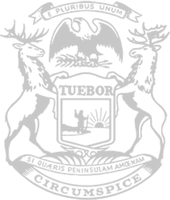 © 2009 - 2023 Michigan House Republicans. All Rights Reserved.
This site is protected by reCAPTCHA and the Google Privacy Policy and Terms of Service apply.