Rep. Greene stands up for military service members, opposes plan to delay voting rights
State Rep. Jaime Greene recently voted against legislation that will delay the establishment of a system through which military members serving overseas can quickly and securely return their ballots to Michigan elections officials.
In 2020, the Michigan Legislature approved a bipartisan plan to ensure active-duty military members stationed overseas have the option to return their ballots electronically beginning in 2024 using their military-issued Common Access Cards. The legislation instructed the Secretary of State to set up a system to facilitate the return of ballots in this manner.
"I am deeply disappointed in the Secretary of State's failure to fulfill the commitment made to our active-duty military members in 2020," said Greene, a U.S. Navy veteran. "This bipartisan plan was designed to provide our brave men and women in uniform with a more accessible and secure means of exercising their fundamental right to vote. Three years have passed, and the Secretary of State has yet to set up the necessary system to facilitate this critical function. Such inaction is unacceptable."
Last week, Greene voted against Senate Bill 470, which delays the implantation of the system until 2025. Despite her opposition, it passed the House on a 56-54 party-line vote and will soon be presented to the governor for her expected signature.
"The rights of our military members are not something that we can afford to compromise or postpone," Greene said. "It is our duty as public servants to uphold and protect the rights of all citizens, especially those who are serving our country."
"Our military members sacrifice so much to protect our democracy and way of life. It is only right that we, as a state, do everything in our power to ensure that they have every opportunity to participate in the democratic process. Electronic ballot return using their military-issued Common Access Cards was meant to simplify and streamline the voting process for them, and the fact that this has not been realized is a disservice to their service and dedication to our nation."
Common Access Cards serve as identification for active-duty military. They also allow service members to access defense computer databases and sign and securely transmit military documents electronically. A 2012 report from state elections officials noted that using Common Access Cards to access and transmit ballots would alleviate concerns over security as the cards are already highly secure, and only one card is assigned to each active-duty member.
###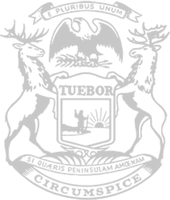 © 2009 - 2023 Michigan House Republicans. All Rights Reserved.
This site is protected by reCAPTCHA and the Google Privacy Policy and Terms of Service apply.