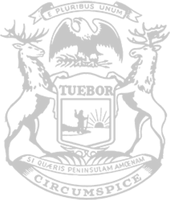 PHOTO INFORMATION: The new 97th House District, seen here in purple, includes portions of Tuscola, Saginaw, Genesee and Bay counties.
Rep. Green passes Tuscola County reins to Rep.-elect Bierlein
RELEASE
|
December 22, 2022
County residents will soon have new representation in Lansing
State Rep. Phil Green (R-Millington) today said Tuscola County residents are in good hands as Rep.-elect Matthew Bierlein (R-Vassar) prepares to take office in the new year. Starting Jan. 1, Bierlein will represent the new 97th House District, which covers potions of the Thumb that were mostly represented by Green prior to redistricting.
The new 97th District includes Tuscola County townships of Akron, Almer, Arbela, Columbia, Denmark, Fairgrove, Gilford, Indianfields, Juniata, Millington, Tuscola, Vassar and Wisner and cities of Caro and Vassar, and Saginaw County townships of Birch Run, Blumfield, Bridgeport, Buena Vista, Frankenmuth, Kochville, Taymouth, Tittabawassee, and Zilwaukee and cities of Frankenmuth and Zilwaukee. It also covers small parts of Genesee and Bay counties, including Montrose, Vienna and Williams townships and the City of Auburn.
Green has represented all of Tuscola County for the past four years, but due to newly established district lines by the state's Redistricting Commission, he will soon represent a new area that includes only Waterton Township in Tuscola County. The rest of his new district is made up of large portions of Lapeer and Genesee counties and.
Matthew Bierlein is a local small business owner and former Tuscola County commissioner. As a husband and father of three young children, he is eager to pursue policy changes that help Michigan families grow and flourish.
"I am looking forward to serving Thumb residents at the capital," Bierlein said. "It's an honor to act as their advocate in my new role as state representative."
"It's a good feeling knowing my former constituents are in good hands as I pass the reins over to Rep.-elect Bierlein. I'm pleased to have the opportunity to work with him in Lansing," Green said. "It's been my honor to serve the people of Tuscola County for the past four years – especially in my fight to save the Caro Center and numerous local jobs there in 2019. I look forward to the opportunity to continue my service as I represent Lapeer and Genesee residents in the new year."
Green's new 67th District specifically encapsulates the townships of Deerfield, Marathon, Oregon, Mayfield, Hadley, Metamora, Elba and Lapeer, as well as Lapeer City in Lapeer County, the townships of Thetford, Forest, Richfield and part of Genesee in Genesee County, and Waterton Township in Tuscola County.
To view Michigan's new House district map, click here, or to see district maps by county, click here.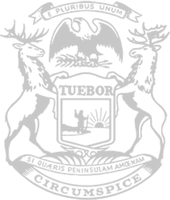 © 2009 - 2023 Michigan House Republicans. All Rights Reserved.
This site is protected by reCAPTCHA and the Google Privacy Policy and Terms of Service apply.