Rep. Fox: "Failure to condemn terrorism is a moral failing"
Rep. Joseph Fox was appalled today to witness the Democrat leadership reject a bipartisan House resolution that would condemn Hamas and support Israel's right to self-defense. The resolution did not receive a vote but instead was moved to the House Government Operations Committee – widely considered a graveyard for legislation.
"I am shocked that Michigan Democrats want to sweep this resolution under the rug and cry foul about Republicans trying to score political points," said Rep. Fox. "While Israel mourns the dead, now is not the time for nuance or politicking. Now is the time to join the free peoples of the world and support a grieving nation fighting for its survival."
The move comes days after Israel suffered brutal attacks from Hamas, a terrorist organization, which have left more than 1200 dead and 2800 wounded. In response, every Republican Representative – including several Democrats – co-signed a resolution that supports Israel and calls out Hamas for the atrocities it committed last week. Normally, resolutions pass the House without an issue. However, the resolution was sidelined by House Democrat leadership and is not likely to receive a vote.
"I too have traveled in Israel. This is not about foreign affairs; it is about atrocities committed against humanity, who are created in God's image. All of us have to stand for something, and Democrats have failed to stand against evil and so they have failed morally. Who are we as humans if we cannot condemn violent acts of terror and stand in support of the innocent who are suffering? We must be bold enough to call out evil and pray for justice to be done."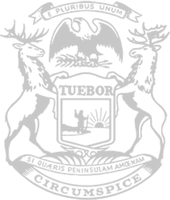 © 2009 - 2023 Michigan House Republicans. All Rights Reserved.
This site is protected by reCAPTCHA and the Google Privacy Policy and Terms of Service apply.