Rep. Fink celebrates fellow veterans on 248th birthday of U.S. Marine Corps
RELEASE
|
November 10, 2023
Rep. Fink has introduced a resolution commemorating the 248th birthday of the U.S. Marine Corps in the state of Michigan.
"I learned so many important lessons from my time in the Marine Corps that I carry with me to this day," said Fink, a Marine Corps veteran. "Today and every day, we should honor the veterans who helped maintain the free and safe country we enjoy every day."
Fink was promoted to the rank of Captain in September of 2013 and was awarded the Navy and Marine Corps Commendation Medal in June of 2014. The award certificate given to Fink by the Secretary of the Navy cites "Captain Fink's professional ability, initiative, and loyal dedication to duty," saying that these traits "were in keeping with the highest traditions of the Marine Corps and the United States Naval Service."
The Marine Corps was founded on Nov. 10, 1775, in Tun Tavern, Pennsylvania, during the Revolutionary War. This branch of the U.S. military is known for exemplifying the highest standards of honor, courage and commitment, as well as a brave and selfless dedication to the nation.
House Resolution 166 recognizes and celebrates the fighting spirit of active-duty and veteran marines that has defended the U.S. against enemies to the American way of life.
"The Marine Corps is an indispensable force in defending freedom, safeguarding the nation, and upholding the principles of ordered liberty," the resolution states.
The resolution declaring November 10, 2023, as Marine Corps Day in the state of Michigan was cosponsored by bipartisan members of the state House and adopted with overwhelming support.
###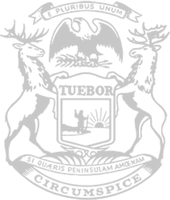 © 2009 - 2023 Michigan House Republicans. All Rights Reserved.
This site is protected by reCAPTCHA and the Google Privacy Policy and Terms of Service apply.