Rep. DeSana stands up for Michigan taxpayers, votes no on 'toxic' state budget
Rampant spending risks destroying twelve years of careful strategy
Rep. James DeSana (R-Carleton) stood up for hardworking Michigan taxpayers by voting against out-of-control spending in the new state budget proposal.
"This budget is not simply a political miscalculation, it is a drop of extremely toxic poison that risks tainting the well of Michigan's economic future," DeSana said. "Twelve years of strong Republican leadership left the new Democrat majority with a $9 billion surplus. We should be investing it wisely to fix our local roads, shrink class sizes and pay down debt. Instead, House Democrats are wasting it on special projects and programs that grow state bureaucracy in an unsustainable way."
The budget being pushed by the Democratic majority in the House leaves just $500 million unspent of the historic $9 billion surplus created under previous Republican leadership. For DeSana and his colleagues, this came as a frustrating surprise.
"We have the money to fulfill so many of our promises to the people of this state," DeSana said. "If this budget passes, that hopeful future dies. If this money isn't returned to the taxpayers, we should at least spend it on what counts like roads, health, and police. Instead, House Democrats want to spend $150 million on electric school buses, $5 million to incentivize the purchase of e-bikes, and $20 million on a drone program."
The Democrat-crafted budget now heads to the Senate for further consideration.
Rep. DeSana and his office can be reached at (517) 373-0475.
#####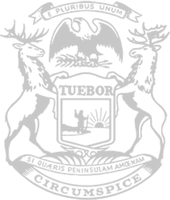 © 2009 - 2023 Michigan House Republicans. All Rights Reserved.
This site is protected by reCAPTCHA and the Google Privacy Policy and Terms of Service apply.