Rep. DeSana spearheads plan to ban injection wells for dangerous toxic waste
State Rep. Jim DeSana is leading a bipartisan effort in the Legislature to ban toxic waste injection wells like the one in Romulus, where dangerous chemicals from the Norfolk Southern train derailment in Ohio were brought to be deposited into the ground.
DeSana's plan, House Bill 4444, would strictly prohibit the construction of any new Class 1 commercial hazardous waste injection wells in Michigan.
"In February, toxic waste from the train derailment in East Palestine, Ohio, was quietly shipped to Michigan to be deposited into the ground in our community," said DeSana, R-Carleton. "State and local officials, and we as residents, were not given advance notice of this, leaving us practically no time to respond. The shipments were halted – but not before truckloads of toxic waste had already arrived. The public sentiment is clear. People don't want this waste disposed of in our community, or anywhere in Michigan."
If enacted, DeSana's legislation would make Michigan the 18th state to ban Class 1 deep injection wells.
"These chemicals represent a substantial risk to the well-being of Michiganders and our state's environment and natural resources, and the construction of these wells encourages the transportation and storage of dangerous and harmful materials," DeSana said. "We must do more to ensure that Michigan is protected from dangerous contaminants."
DeSana said records from across the United States show that wells drilled to inject this waste deep beneath the ground have repeatedly malfunctioned, sending dangerous chemicals and waste gurgling to the surface or on occasion seeping into the shallow aquifers from which public drinking water is drawn.
While DeSana is proud to lead the charge against toxic waste injection wells, he's also proud to have bipartisan support. House Bill 4444 has three co-sponsors, Reps. Jamie Thompson (R-Brownstown), Reggie Miller (D-Van Buren Township) and Dylan Wegela (D-Garden City).
"This is not a partisan issue," DeSana said. "We must work together to protect Michigan families and the natural resources of our Great Lakes State from the harmful effects of these dangerous toxic chemicals."
The plan has been referred to the Natural Resources, Environment, Tourism and Outdoor Recreation Committee for consideration.
###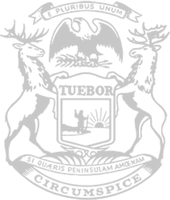 © 2009 - 2023 Michigan House Republicans. All Rights Reserved.
This site is protected by reCAPTCHA and the Google Privacy Policy and Terms of Service apply.