Rep. Damoose speaks up for Up North fliers, helps secure restoration of nonstop flights between regional airports, Detroit
RELEASE
|
September 8, 2022
After advocating to protect efficient air travel for passengers from Northern Michigan and the Upper Peninsula, state Rep. John Damoose today praised the planned restoration of direct, nonstop flights between local airports and Detroit.
"Efficient, high-quality air travel to Northern Michigan and the Eastern Upper Peninsula helps us thrive," said Damoose, R-Harbor Springs. "Interfering with this transportation would inhibit local economic growth, but a dramatic crisis has been averted. The people of Northern Michigan and the U.P. are thankful that Delta and SkyWest changed course — literally and figuratively — and recognized the importance of regular, nonstop flights to our regional airports.
"Along with a coalition of citizens and public officials at the local, state, and federal levels, I worked directly with airline officials and the U.S. Department of Transportation to discuss and address our region's transportation needs. This whole episode has shown that by bringing people together, we really can make a difference for our communities."
SkyWest Inc., which contracts under Delta Air Lines Inc. to service several small, regional airports in Michigan, previously announced it would end nonstop flights between Detroit and individual airports in Pellston, Sault Ste. Marie, and other northern communities, instead conducting tag flights — trips with multiple stops to pick up additional passengers. Now, following Damoose's efforts to discourage the route change, SkyWest's tag flight operation will be temporary, with the normal schedule of nonstop flights restored in early October.
Damoose rallied other state legislators from Northern Michigan and the Upper Peninsula to raise the issue to U.S. Transportation Secretary Pete Buttigieg. In an Aug. 15 letter, Damoose, along with Sen. Wayne Schmidt and Reps. Greg Markkanen, Ken Borton, and Michele Hoitenga, urged Buttigieg to oppose the proposed transition to tag routes.
Last month, Damoose also met with Delta Air Lines officials to share concerns he has heard from local authorities, airport officials, and passengers.
Chippewa County International Airport in Sault Ste. Marie and Pellston Regional Airport are both located in the 107th House District, which Damoose represents.
###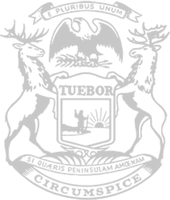 © 2009 - 2023 Michigan House Republicans. All Rights Reserved.
This site is protected by reCAPTCHA and the Google Privacy Policy and Terms of Service apply.