Rep. Clements votes for balanced budget with substantial debt payment and savings
State Rep. TC Clements and the Michigan Legislature today voted to approve a balanced budget that supports necessary services and ensures critical savings.
The plan will fund state government for fiscal year 2023, which begins Oct. 1 of this year, investing significantly in emergency services, infrastructure, and education while saving billions of dollars for possible tax relief.
"Successful communities depend on safety and security," said Clements, R-Temperance. "This budget prioritizes emergency services and law enforcement, efforts that will directly benefit my neighbors and people across Michigan. Additionally, our plan lowers the debt to limit the burdens on future generations. We have taken real steps to improve infrastructure and schools while leaving room for potential tax cuts in the coming months. My neighbors want efficient, streamlined, limited government that functions well to serve the people."
Highlights of the plan include:
Protecting communities: Clements, a former police officer, highlighted additional support for state and local law enforcement, on top of regular police funding. He said the additional resources demonstrate commitment to the officers who protect people throughout Michigan. The budget provides $30 million to help meet critical staffing needs in public safety departments with funding for police officer academies, scholarships, and cadet salaries. To help bring law enforcement and community members together, $16 million will support community policing initiatives, and $7.5 million will replicate Detroit's successful Police Athletic League in other communities, helping foster relationships between police and local residents. Another $30 million will pay for emergency medical services training. Further resources will help pay for upgrades to equipment that directly affect safety of officers and firefighters.
Educating students: The school aid budget allocates a record $19.6 billion to support education for Michigan students. After last year's budget provided schools with equal per-pupil foundation allowance funding for the first time, the new plan increases the amount of each grant from $8,700 per student to $9,150. The Great Start Readiness Program for at-risk preschoolers will also receive $9,150 per child. Increased investments will support special education, bringing the total to $1.92 billion, and additional help for at-risk students, a total of $747.5 million. Keeping students safe remains a top priority, with $168 million for school safety grants and $25 million for school resource officers. Other funds will help support student mental health. Clements said he continues to support legislation to improve Michigan curriculum and to protect girls' sports.
Fixing roads: The plan continues to repair roads and bridges in Michigan, building on a $4.7 billion plan passed in March, which funded roads, bridges, dams, broadband equipment, and other infrastructure.
Clements added he will continue to work to ensure that state government supports and focuses on the people in Michigan. 
"Going forward, I believe we must work to reduce taxpayer money going to universities," Clements said. "We should try to refocus our state universities' enrollment decisions to make educational opportunities available for Michigan graduates first.
"I also will continue to fight abuse of power within government. Our attorney general lets her political opinions interfere with her duties. Rather than serving as an impartial law enforcer, she picks and chooses which laws to enforce or defend — undermining the prosecutorial mission of our attorney general's office to pursue purely political aims. This trend must stop."
The budget, contained in House Bill 5783 and Senate Bill 845, now advances to the governor, who is expected to approve it.
###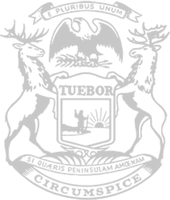 © 2009 - 2023 Michigan House Republicans. All Rights Reserved.
This site is protected by reCAPTCHA and the Google Privacy Policy and Terms of Service apply.