Rep. Carra: Vote Explanations 4/21/2023
Wednesday, April 19
I voted NO on HB 4202 (Rep. Pohutsky) would allow people to be charged with a felony if they have intentional sexual contact with their spouse who is "mentally incapacitated." EXPLANATION: Like any sane person, I am opposed to rape and believe it should be punished to the fullest extent of the law. Unfortunately, under this change, a married man or woman could file frivolous charges. For example, a woman and her friends go out to the bar and they slip extra shots into her drinks without her consent. If she goes home and has sex with her husband but later regrets her action, she could file charges. I worry that this law can and will be abused with the trajectory of our culture.
PASSED: 103-5
Thursday, April 20
I voted NO on SB 63 (Sen. Polehanki) would allow a school sinking fund to be used for expenses related to school transportation. EXPLANATION: Charter schools that are unable to levy millage rates would unfairly remain on the hook for these transportation costs. Additionally, this would incentivize schools to ask for increased millage rates for their transportation costs when the sinking fund was intended for school construction efforts.
PASSED: 61-45
I voted YES on SB 101 (Sen. Anthony) would permanently authorize insurance companies to conduct meetings electronically. EXPLANATION: Private companies should be allowed to conduct their business in a way that makes the most sense to them to ensure the greatest participation from board members and stakeholders.
PASSED: 102-4
I voted YES on HB 4047 (Rep. Bezotte) would create a new act to designate February 1 of each year as "Blue Star Mother's Day" in Michigan. EXPLANATION: Blue Star Mothers pack and ship thousands of care packages every year to service members deployed overseas. They also volunteer to help homeless veterans, provide support for Wounded Warriors, visit hospitalized veterans, honor fallen heroes during funeral services, and offer a compassionate community for the loved ones of those serving in harm's way and they deserve this recognition.
PASSED: 106-0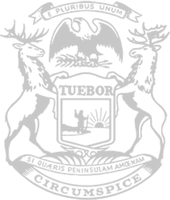 © 2009 - 2023 Michigan House Republicans. All Rights Reserved.
This site is protected by reCAPTCHA and the Google Privacy Policy and Terms of Service apply.